…
I have also discovered that using TV Connector with my computer has reduced my battery consumption significantly. Before using the TV connector I was using standard bluetooth and going through batteries almost daily!
re: Picked up my KS 9.0 T last Thursday
I also have the KS 9.0 Ts, but have not yet updated the firmware. I have a Telecoil setting on my aids, but I'm wondering if the update App would allow that setting to be selected without having it as one of the settings on my aids. Can you advise?
Since Costco does not sell Roger Select IN, where I can purchase Roger Select IN for KS 9.0?
Any audiology clinic will order them for you, but the prices are outrageous, you'll be better off trying eBay, new and unused models can be found.
I haven't seen used iN versions for sale, but also cannot recall seeing regular one either

@member32
Another option is to buy regular, not iN version, then two of roger x receivers (little cube like thing, I forgot which serial number was to be, I think if it starts with a 20 and 19 will work but maybe also 18 and 17) and go to some place where they can transfer the receivers/licence/key from Xes to marvels/ks9.
That is if you want to go used route and hunt for deals. Only thing to remember is to don't turn on bt on those mics.
In Germany iN and regular select are 1000 eur. In UK I saw regular for around 1000 eur converted and iN for 1500, and x receivers around 250-300 each. New. Don't know USA prices.
Pen regular (1.1) in Germany is around 900 eur new, iN doesn't exist.
I bought used pen at ebay (seller from USA, 100% positives) for less than 150 eur with shipping included.
I think I saw Xes for around similar price, 150 eur each. (I bought new select iN to get the licenses and since I couldn't find used one of any type, but I wasn't patient).
Check amazon though. German amazon doesn't sell anything HA related and expensive - only domes, batteries, but I remember seeing HAs on uk amazon. I didn't check for mics i think, but in usa you can buy a lot of things which we can't.
The serial number needs to be 1744 or later. Basically the Roger X's with the 2.0 firmware update.
The iN versions of roger are not sold in american continent! Only european continent.
Go to any other fm system provider
most will sell them. Check pricing
so here in quebec i went with a gross provider. 350 for 03 receivers
Good luck
myPhonak app needs to be added to this information
I recently upgraded my Brio-1 to a KS-9 with direct Bluetooth. The over-the-air hearing is much better than the old Brio-1 especially with all the programs for different sound situations and being able to change settings for each sound environment and create unique programs. But, I am having problems with the direct Bluetooth and my Samsung S10 Android cellphone. When I got the Android phone a year ago I turned on various settings for use with hearing aids to "Enhance the sound quality of your phone for hearing aids" which seemed to help with my old Brio-1s. Now with the KS-9 aids phone calls with the cellphone using Direct Bluetooth have a very poor, echo-y almost garble-y sound. I went back into all the phone settings for Hearing Aids and turned them off thinking that these settings might be interfering with Direct-Bluetooth, but the sound problems are the same. Playing videos on my phone with direct streaming to my KS-9 has the same sound problem. Turning off Bluetooth pairing on my phone for the KS-9 and then playing the videos thru the phone speakers sounds better than thru Direct Bluetooth. On the myPhonak app I do not see any Program to change settings when streaming via Direct Bluetooth - is this something the Costco tech can add on my next appointment?
I would like feedback from other KS-9 users about their experience with Direct Bluetooth.
Something that fixed Bluetooth phone call clarity for me with Phonak Audeo M90 RT aids and a Samsung S9 was to change the Bluetooth bandwidth from adaptive to fixed. My wife has the KS9 aids and an iPhone that works great in adaptive Bluetooth.
You can get to this bandwidth setting in your Myphonak app on your phone.
Good luck
Bt calls, bt media are two more programs in HAs and default generated ones from base graph obviously doesn't suit you. Make notes, and tell your audi to adjust it
If you can hear with them as HAs good, streaming can be even better, but might need proper fitting/adjustment done.
Fixed bandwidth switch IMO affects stability but can't address 'color of sound'. But probably, it's both - adaptive bt and refit what you need.
For bt, go in my phonak app, top right menu, then my HAs, then bt, open, wait, change.
I have a question about the K9s and the Roger pen.
I recently had the firmware upgrade. With this upgrade, are K9s fully Roger compatible? In other words, can I use a Roger pen to stream to my K9s without any intermediary device (does the K9 have the Roger receiver function built in)?
Tom
You have to install some Roger Xs into the KS9s like in this picture which shows the Roger Installer.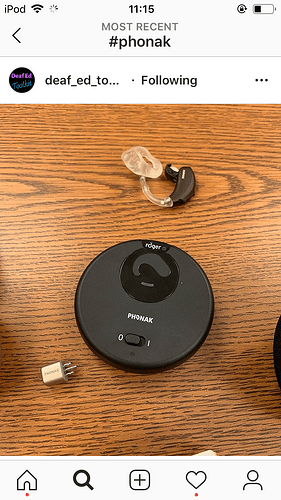 OR get the Roger iN devices.
I have a similar problem, just in my first 2 weeks with KS 9s and I'm finding streaming gives me poor sound quality, I call it static-y but garble-y works too. I tried streaming a phone call and streaming from my laptop. Much better just to listen or use headphones without my aids.
Go back Wed 12th will ask my fitter.
My bandwidth is fixed so I may try adaptive.
It's my understanding that, with the firmware update, the K9s operate similar to the Phonak Marvels, which don't need the Roger Xs–they will accept the stream from the Roger pen directly.
I'm trying to confirm that this is true. Perhaps someone can advise.
No, the Phonak and KS9 aids once updated still need the Roger Key installed as Zebra described. It's software that enables the updated aids to communicate with roger devices.
There are two ways to do it. If you buy a Roger iN device, it comes with the receiver "licenses." Otherwise you can transfer licenses from Roger X's. The aids are capable of streaming from Roger pen directly, but they need to have the "licenses" installed.
Roger direct means you don't need intermediary device because hardware is already in it. It needs to be turned on/installed by firmware and then you need activation key which sits in either iN devices or x cubes.
So, it's like you have a laptop (HA) with windows, then you download and install ms office (firmware update), and then you need a key (receiver / licence transfer)
Roger receiver is the name for the devices like roger mylink, those x cubes and shoes.
However phonak also decided it is most logical thing to name something that's essentially just a virtual key and not physical device to call it also a receiver when it comes to marvels.
If they'd use names like cucumber and potato and not recycle the names, I belie it'd be clearer