I've had a poor experience using Bluetooth to connect my Phonak Paradise P70-R and P90-RT hearing aids to my smartphone for calls and audio and/or computer for Zoom meetings, etc. Here is my workaround to provide a more stable connection with higher fidelity and low latency.
Inspired by an earlier post here, I came up with the idea of connecting an inline mic from a headset to a TV Connector. It works great! Attached is a pic of the setup: the teal wire is my inline mic line that I can plug into my iPhone (with an adapter) or directly to my computer.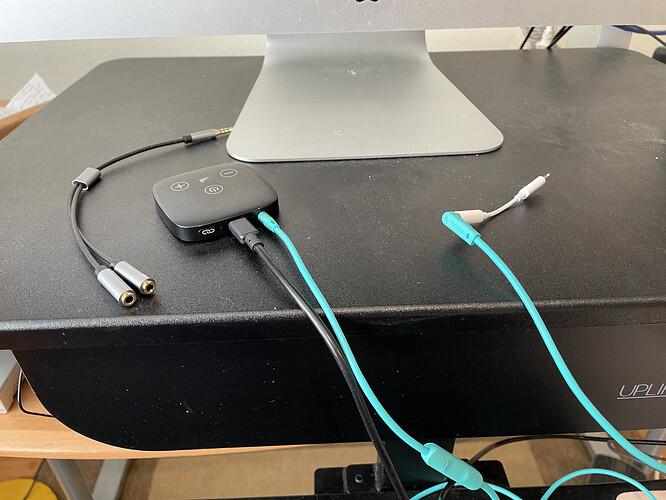 The wired connection is a bit of a hassle, but the quality is excellent. What's more, there is almost no latency like there was with Bluetooth. And since the TV Connector uses a 5V power supply, I can use it with an external USB battery if I want a portable solution. It has cut out on me once or twice, but pushing the "link" button on the TV Connector reconnects to the hearing aids pretty quickly (though the connection chimes are pretty annoying!).
(Side note: I tried to use a Y-splitter pictured to the left in the photo, but I couldn't get any mic to work simultaneously with the audio feed. Not sure if it's a bad Y-splitter or something else, but the inline mic headset wire works great and can be purchased for $15).
Very happy to have this more stable solution and not have to rely on Bluetooth and the poor mic quality while on the phone anymore. Just thought I'd share!