Your Oticon Opn accessories (Phone/TV Adapter/ConnectClip) may have sound quality issues depending on your Oticon Opn hearing aid settings. These issues have been discussed in various threads. Special thanks to @Volusiano for being a trail blazer for these connectivity issues.
If you are not a self-programmer then your audiologist will have to change these settings using the Oticon Genie 2 fitting software and a programming device.
The settings can be accessed by clicking the (Phone/TV Adapter/ConnectClip) Tabs at Genie 2/End Fitting;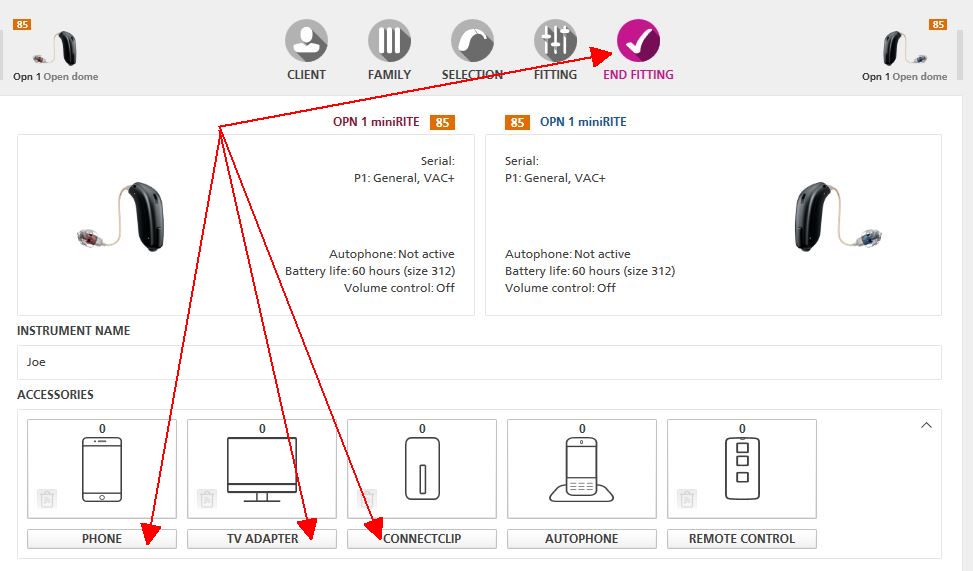 Phone Tab: In addition to the default settings below that are programmed into your Opn hearing aids you can also use your cellphone volume sliders and your hearing aid buttons for additional control.
Phone loudness = your phone volume that you hear in your hearing aids.
M relative to phone = your hearing aid microphone volume to hear the person(s) standing next to you.
Sound Quality = brighter or fuller
Power Bass = off, low, mid, or high amount of bass

TV Adapter: same settings as Phone;
Tip: you can toggle your hearing aid mute button (generally hold either hearing aid button for a very long press, 3+ seconds) to listen to TV with no hearing aid microphone input. When the need arises to talk to a person next to you, then a quick button press on either hearing aid will un-mute the microphones so you can listen to the person next to you. Note: If you do use this mute/un-mute toggle then you will want to set (M relative to TV) to the right most value which is 0 dB attenuation for the mic, meaning there's no attenuation and you'll hear everything from the mic like normal.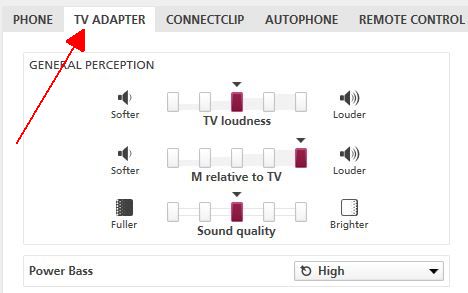 ConnectClip Tab:
Also same settings as Phone. Check out the information at the bottom saying the settings are only for the ConnectClip microphone;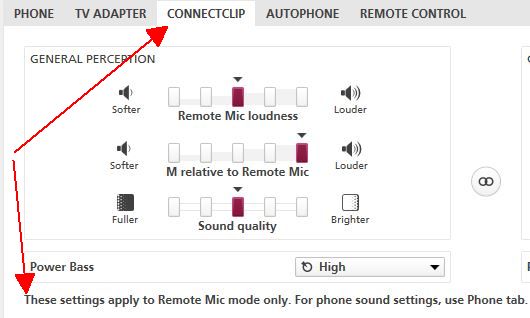 The above images show only one side (right ear) for brevity; Here's both sides. Notice the icon directly in the center (two small circles inside a bigger circle). Toggle that icon to adjust two ears at once, or to adjust right-side, left-side individually;