Interesting, will be tracking this down for a look see, as well.
Thanx!
I just looked at the Oticon Safe-Line. Price is about $30. I believe you could use the eyeglass keeper with the silicone ends that tighten. They cost a dollar or two. See picture, looks like a No-Brainer.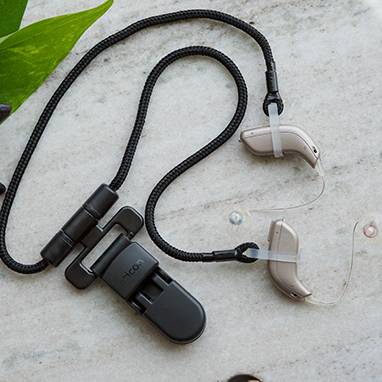 I made my mask with ties that go around to the back of my head. The ear loop were getting tangled in my tubing between the mold and the BTE microphone. I'm not in the healthcare field so I'm just wearing the mask when I go out shopping (rarely.)
I like that Safe-Line, Remag1234. Clever!
I found adco has way cheaper options ! I would not shell out 30$!! This has some at 9$ and multicolor
Update: Never mind about adco. After reading tons of reviews even from professional sites who surveys 293 parents, easy gear is the most long lasting, really working retainer. Adco breaks in like 1 month. So i orders yesterday a pair of corded glasses. Ps for Canadians do not buy from their store. But it on Amazon.ca. its sold by them but comes out cheaper then exchanging us to cad. I was charged for 36 us 53 cad. Amazon it came to 43.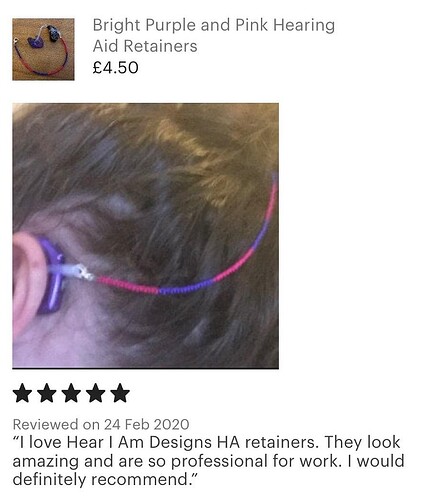 Not my picture but I've just ordered some of these retainers. Still waiting for them to arrive. Hopefully they'll turn up today.
Oh personally, when I go skiing I use just regular sewing thread, loop it and tie the thread to secure low profile hair clips and clip it in to my hair. Works really well and fits under my halmet.
I don't like the elastic over the ears/aids either, so I made this mask using an adjustable fabric strap. Comfortable and the strap fits nicely over my aids. To take it off I just lift the mask upwards.! I also added a wire along the bottom hem to make the mask conform to my jaw … I think I have invented an "underwire mask"!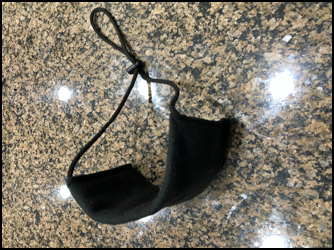 So I'm in healthcare and wear a mask for every patient. This happened to me when I had to get vitals and use a stethoscope. I just pulled the ear piece out of one ear and left the body behind my ear. Well then I didn't want to deglove and put it back in place so it was not in my ear. Thank god I wore my mask until I got back in my Jeep. This has happened to me twice. The first time I saw my aide go shooting across the inside of the car when I removed my mask. And I swore to myself I'd not allow that to happen again but as stated, these become an extension of you and I'm not constantly aware of them. But of course I did allow it to happen again and had driven away from the patient's house before I realized I'd lost my right aide. I stopped and used my HA locator in my app which was showing it was moving right along with me so I knew it was somewhere in my Jeep with me but I could not find it. When I arrived at my next patient I searched that Jeep thoroughly. Still couldn't find it. Finally found the stupid thing looped over the cord connecting my phone to my car stereo. I am now more careful and the mask nearly always pulls one out when I'm removing it but I'm aware of it. But I would love a solution that would keep them secure. I like the band with buttons on it. In fact my company said someone made and donated headbands with buttons sewn on the sides so you can wear the headband all the time and just unhook your mask from the buttons. I'm going to go with that and try it out.
I have known about OtoClip for many years. My husband who had worn aids since he was 30 had LewyBody Dementia and we got the OtoClip for him when he had to move into Assisted Living. We never lost an aid!!!
I THINK they were originally sold for children - - but are a GREAT help to the elderly also.
OK - THEN YOU AVOID THE IMMEDIATE BEHIND THE EAR AREA!!! and less chance of the HA getting pulled off by the mask elastic! seems like that would help. Good Idea, Thanks!
HAHA - underwire mask - good one
That sounds like a great idea. Gonna have to dig into hubby's fishing stuff!
Thank you for this info! I did not know something like this existed. Mask popping off my aids has been a problem & fear for me to.
Not being able to read lips also has made it more difficult to communicate so not wearing them has not been an option.
I have been volunteering to distribute food & communication is essential. This seems like a great solution! Much appreciated!
There are masks made with a vinyl "window", specifically for people who read lips. Originally saw them for people having surgery - get the surgeon-nurse to wear them, so the patient could communicate with them. try search engine on the internet.
George, this probably won't be something you want to do, depending on the weather where you are. What I've done is wear a knit "neck gaiter" knit sleeve thing, but instead of wearing around the neck, I've worn it like a kerchief, pulled over my ears. Hearing aids and glasses are secure. I look real funny. Goggles and mask go on over this, mask has straps behind the head not over ears. When I take them off, leave the head covering on, and I don't yank HA's out. I work in an ICU and so the head cover for me takes the place of the surgical bonnet thing; I put in a baggie, take home and wash it. Hair is put up and under it.
But perhaps you have a thin hatlike thing? Like a beanie? (I don't know, am guessing. Again, would work better in winter.)
-Sherry
Wow, I never thought so many others have experienced my problem in these Covid times. I loved the story of the HAs that flip off and fly. Just yesterday I left the customer area of my Essential open Store and came to my office, washed my hands and removed my face mask. I felt that feeling and even heard a click. Right HA gone, flipped.
Looked and looked. Down on my hands and knees on the floor and found it under a rolling file cabinet. I have to say, that if I wanted to, I could not take a HA and throw it from where I was, hit the floor and cause it to bounce and slide to end up where it was.
I have purchased and tried several suggestions from you all, including the OTO clip. I find the band that holds it together to be too big behind my ear, add sun glasses and mask and now I have a problem. I'm a 70 year old balding guy and the knitted things just do not work for me, (In my head).
I have been playing with the suggestion of using fishing line and it seems to have promise for me. I keep trying to learn how to tie the knots and I am getting close. I added a loop and a clip so I can clip the contraption to my shirt. Progress is evolving. I did have a proto type event where when I reached for my shirt pocket pen to do a Notary, my thumb snagged the loop and ripped both HAs out of my ear.
The long time customer was shocked, had never noticed that I had HAs and wanted to take a good look after I re-installed them. She was impressed on how they just kinda blend in and she had never noticed them.
Thanx for the input.
Later, George
I had a slightly different problem happen yesterday. When I took my face mask off, the elastic caught on the receiver and when I pulled, it broke the hook tube right off the receiver leaving the threaded part inside. Luckily I have a nice guy as an audiologist and he is opening his shop to install a new hook tube for me today.