Ah, OK, thanks for explaining. I had no clue what it was.
hello everyone, right now I'm using the phonak target 7.1 and it is very difficult to connection with the Icube …
does anyone know, whether the icube can be use in the Target 7.1 ?
if not, what version that is in accordance with the Icube ? ( not icube II )
@andreanboea How come you're talking about Phonak software but you've put it in a Oticon Opn thread?
You'll need Phonak Target 6.0 or less to work with the first generation iCube.
I'm sorry, I was careless
@andreanboea no need to be sorry. It's okay. I was just wondering about your post.
Hope I answered your question about what Target will work with your iCube.
For those of you who like to self-program older used hearing aids in the ($300 to $400 price range/currently-2022) the instructions from this thread have been updated and are available as a DIY School PDF file named;
(Fitting Instructions Oticon Genie2; Opn-OpnS)
How to find the DIY School PDF files? Simple;
Click PVC's Avatar on any PVC forum post; Click PVC's Featured Topic.
Hi, anyone can share a direct link to latest Genie2?. Oticon now request a login to download software, and the only way to register is as a company.
Thanks!
Thanks a lot!! I can confirm python script also works under Linux.
Can't wait for my HI-PRO to arrive soon.
Glad that it works for Linux.
For DIY Help 24/7; Click any PVC Avatar; and then
Click PVC's Featured Topic;
There you will find (Free Fitting Software) links or instructions.
Looking for a clear answer here.
I've got the Oticon More HAs that have rechargeable batteries. In reading a bunch of posts above, I'm unclear whether I need cables to update firmware or if it can be done wirelessly. There are mentions of cables needed with older HAs, included the OPNs but my HAs are slightly newer so not sure if that changes things.
Is there an Echo in here??
halo
does anyone here have a Genie for oticon Engage ? please share with me ? thank you
Will send you a PM.
thanks you so much , zebras I will check PM
for you DIY guys… I just listed my HIPRO USB programming on the classified section… if interested HMU… I can provide pics and info as needed…
John
Does anyone have a link to the Geenie2 software for my Oticon mor3 2? Thanks in advance.
Welcome to the forum sure but don't forget you'll need the Noahlink wireless programming device as well for DIY projects.
Check out the user guide as well, more information can be found by clicking on @pvc avatar.
The industry standard Noahlink Wireless hearing aid programming device does not work for all models. Also, for older Oticon models (Oticon Opn included), Noahlink Wireless cannot perform firmware updates. Though, as hearing aid models age, the need for firmware updates tend to fade, so there's that. Plan accordingly while paying attention to the details.
This is my Noahlink Wireless. There are many like it, but this one is mine. My Noahlink Wireless is my best friend. It is my life. I must master it as I must master my life. My Noahlink Wireless, without me, is useless. Without my Noahlink Wireless, I am useless.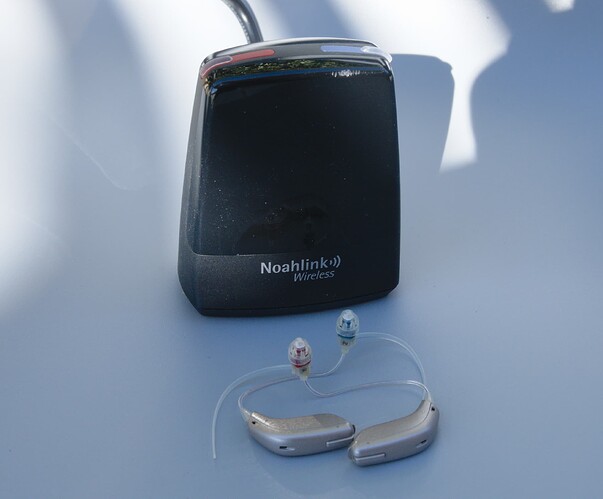 Thanks for the mail! I have a noahlink wireless installed!
Alas, for you have omitted the most important component of your life, by which your Noahlink Wireless is but a piece of plastic with a USB cord.
A working Windoze 10 PC!!