I feel a bit stupid for not mentioning this earlier:
If you want to compare Phonak Hearing Aids install Phonak Target
On the tab instruments>Hearing aids are all their specifics: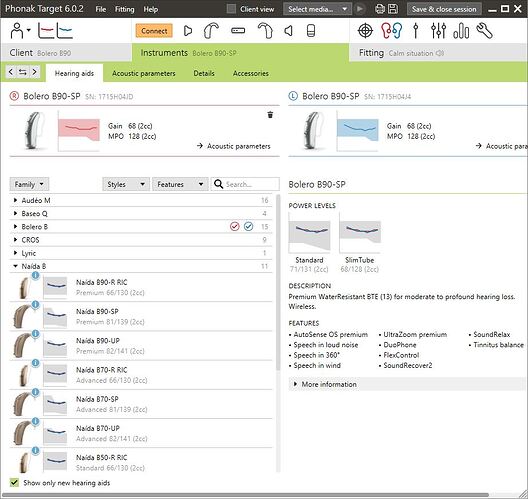 Be aware though, that sometimes features are included that are not mentioned. My Bolero B90 SP's don't have the feature Phonak Adaptive Digital Contrast in its description. However, I have programmed them with that fitting formula since I got them. I speculate that this is a later development that became available for the earlier series, too.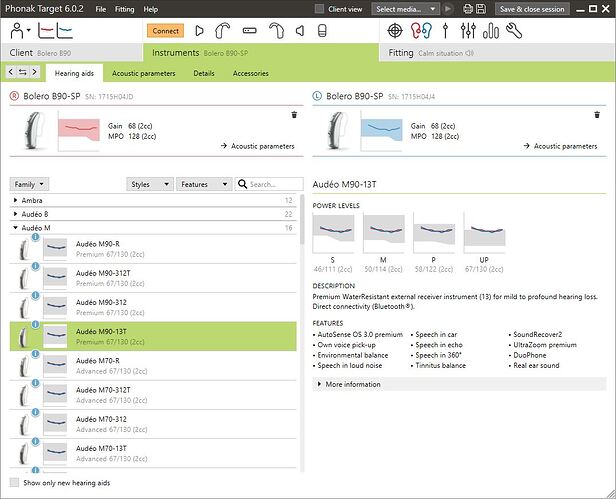 Comparing my Bolero's to the Audeo M90, I see that the AutoSense is now described as O.S. 3.0. I don't know whether the Belong series now has that, too. It seems that after reprogramming with Target this feature would be installed om them, too.
Own Voice Pickup is a new feature.
Environmental balance is a new feature.
Speech in car is not mentioned in the Bolero B90 description. However, I have a program in the Autosense OS with that name.
Real ear sound is a new feature.
And of course direct connectivity is different
@Neville You were quite right to type the Naida as power BTE. As I only tested the RIC the 2cc values of the Bolero SP slightly exceed the Naida. However, the BTE's are 10dB higher.
So concluding I would like to know whether the Autosense OS 3.0, Real ear sound, Own voice pickup and Environmental balance are features that the older series will be enjoying, too. It would explain, why there is so little difference in the testing of the HA's aside from RIC versus BTE and the connectivity of Compilot II versus direct.
---