More generally, my hypothesis is that I want to maximize occlusion to minimize feedback in order not to have to suppress high-frequency gain. Speech intelligibility, both live and TV/movies, is the most important consideration, above naturalness and comfort – providing that I can adapt to any initially-felt discomfort.
With my current HAs I have a vented custom mold in the left ear, and a closed dome in the right. In the experimental (no REM) diagram the heavy magenta line is feedback suppression. The circled areas between 6-8k are the ones of primary concern where gain is substantially suppressed by feedback avoidance. On the left (mold) the low point is 19dB; on the right (dome) it's 12dB.
Motivation: in two weeks I'm going to be dispensed KS9s at Costco. The HIS will be expecting to fit to open domes. Should I try to persuade her to transfer the left-ear custom mold I have now to the KS9 (if it's plug-compatible) and discuss a new one for the right?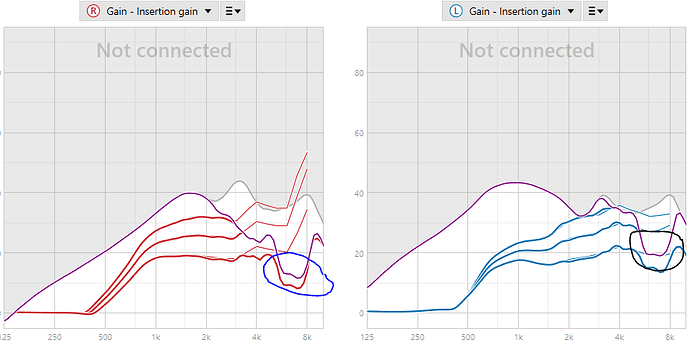 Hat tip to @Sierra for inspiring this hypothesis – but any errors or craziness are all mine.