I have most of my hearing aid issues resolved except for one. I cannot get the full prescription gain in my left ear with closed sleeves, but I am not willing to use molds, so I am prepared to accept the reduced gain to avoid feedback solution.
However, my one outstanding problem is that sounds at a distance are unusually loud, loud to the point of interfering with sounds closer to me. I am currently using the Rexton SmartFit prescription formula and it seems to have quite a bit of compression. This is what the gain curves look like in theory. However, I know in my left ear that the actual curves are about 10 dB down to avoid feedback. But, I assume all three soft, normal, and loud curves are down, and the compression range remains.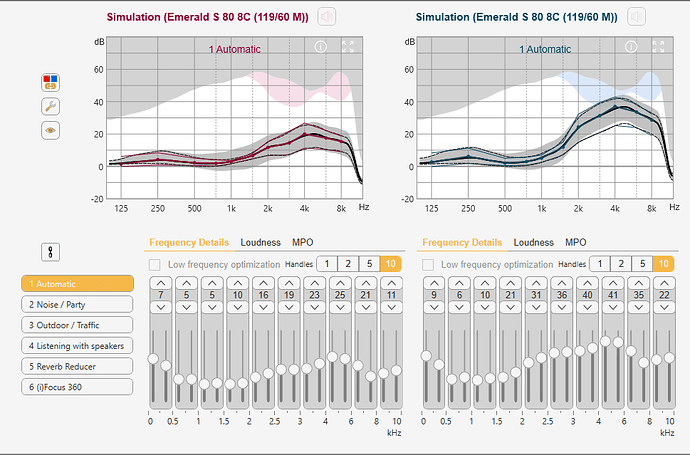 In playing around with the prescription options available, I see that DSL v5 has significantly less compression. It kind of looks like this. However in this case I played around with the gains for the left ear only and reduced gains to keep about 10 dB away from the feedback zone. I am presuming the black curves are the hearing aid, and the blue colored curves are what the formula says. It would take me deep into feedback trouble if they were followed.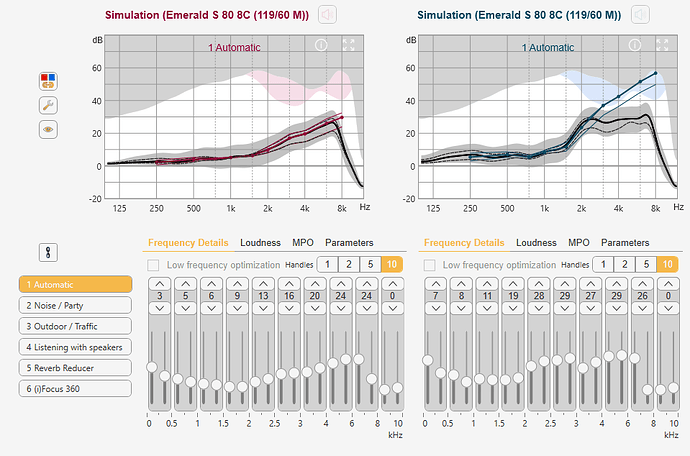 What do you think? Am I on the right track in considering DSL v5? I don't "Do it Yourself" adjust my aids. I just use the software to explore what I could ask my fitter to do. I have researched it a little and found this article below to be interesting. It basically describes what I have been hearing and does suggest compression needs to be reduced.