Hi,
After reviewing my son's ABR results, I am confused. Let me start of with a bit of history.
My son did his first ABR test at 2 months old and we were told he has severe to profound conductive hearing loss in his right ear. After researching online, I found it's not possible to have conductive hearing loss in the severe to profound range so we went back to do a second ABR test. In the second test (same audiologist as first test), she then concluded that he has sensorineural hearing loss in the severe to profound range.
Due to the difference, I requested a third test by a different audiologist, the third test confirmed he has profound sensorineural hearing loss. However, I'm looking at the results from the third test and notice that his bone conduction hearing is better than air conduction by 30db which may mean he has mixed hearing loss. I'm confused at all the different test results. We were told heading aid would not help him because it's in the profound range but if his bone conduction is around 55-60db, does that mean hearing aid could help him? His air conduction is 85-90db. Here's a photo of his ABR from the third test.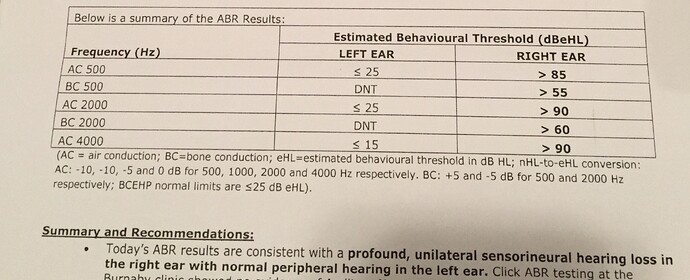 Thank you for the help in advance!