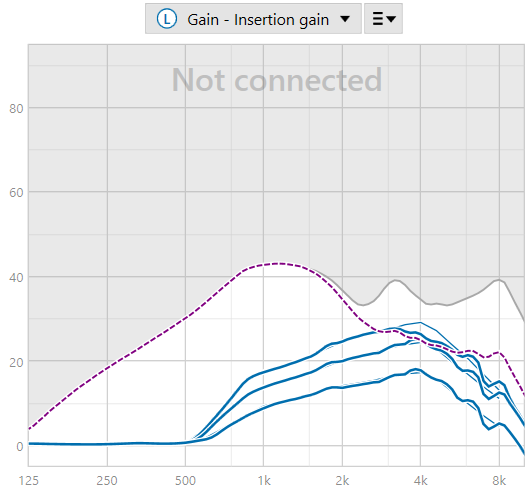 I'm an aspiring DIYer using Phonak Target, but I think the following questions are not specific to that software, except possibly for the third one.
The thicker blue lines are the gain, for 80 dB speech, 65 dB speech, and 50 dB speech, respectively, from bottom to top. The thin blue lines, which for the most part coincide with and are thus obscured by the the thicker ones, are the target gains for each of the input levels. (The dashed magenta line is the estimated feedback threshold, and the gray line is the gain limit.)
(1) I don't know exactly what "gain" means here. It's not a target; it's not a measured result. It's the output of a fitting prescription, but what is it?
(2) I don't understand why, in the region of approximately 5 kHz - 8kHz, the gain meanders about the target gain like a drunk driver.
(3) The 50 dB speech gain seems to be constrained by the feedback threshold in the 3 kHz - 6 kHz region. Is there any way to eliminate that constraint? No Feedback and real ear test was performed, and the feedback suppression feature (WhistleBlock) is turned off in all programs.
Thanks for any insight…