I would be interested in hearing from fitters and users of earmolds as to what methods for making an impression works best. From what I can see the common methods are:
Closed Mouth
Open Mouth - potentially with a brace to keep your mouth open
Relaxed Mouth - Mouth/jaw moved, and talking allowed during the time the impression sets up.
I just got molds that were done with the relaxed mouth method, and quite frankly they are not very good – unacceptable. They seem to move in my ear and make noise every time I move my jaw. The noise sounds like Velcro being pulled apart. The interesting part is that I hear the noise at about the same volume regardless of whether the HA's are turned on or off. The sound must be coming from the molds moving in the ear canal, not from the HA receiver.
I found this article which is a bit dated, but seems pretty thorough:
Impression-Taking Techniques that Result in Fewer Remakes
It is long article, but I would suggest the conclusion of it is that using the open mouth technique results in the best fit. I realize it is controversial, but is that the best current thinking? The argument is made that an open mouth increases the diameter and length of the ear canal, and if you don't want it to be loose when you open your mouth, you need to take the impression with an open mouth.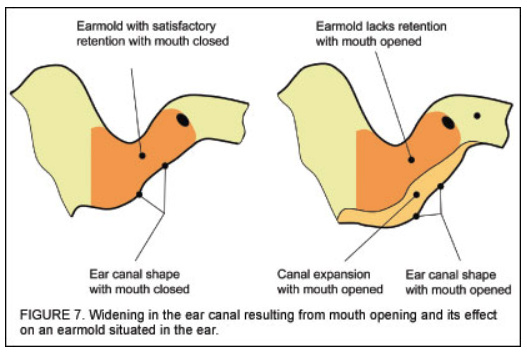 The other issue is that the critical gain test did not show much of an improvement over the closed click sleeves for feedback prevention, although she said she got my gain up to the full target. Feedback is still a bit of an issue.
A second question would be the depth of the mold. If loose fit is an issue, is it better to ask for a deeper mold? Potential to get better acoustic isolation?
I've got to get these molds remade, and would really like to get a good fit this time. I've lost count of the number of times I have been back to the fitter for changes. Seems like I am going in circles. These molds are far inferior to the off the shelf click sleeves.