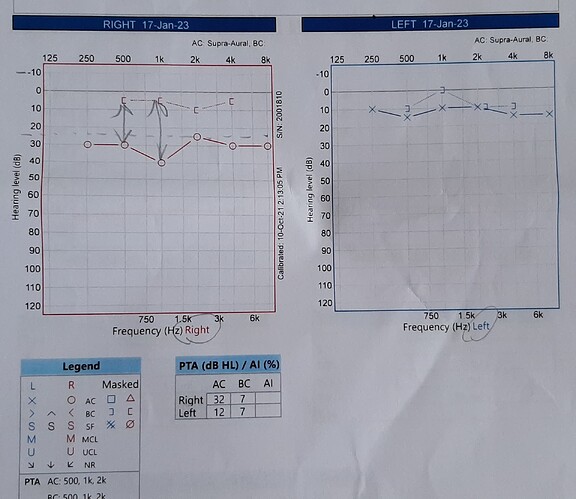 Hello
I have conductive hearing loss in my right ear only. The air bone gap is about 35db around the 1khz region and 20db in the other frequencies. See attached hearing test.
I've never considered hearings aids before as i have tried to look for medical and surgical solutions to my hearing loss. Strangely no ENT doctor has ever suggested them in my 30 years of hearing problems.
I had chronic ear infections as a child which over time has thickened my ear drum due to sclerosis. My latest Ent doctor has said that my middle ear ossicular chain is working correctly but I'm not so sure.
I currently have a t-tube placed in the right ear drum due to a life time of eustachian tube dysfunction. This was supposed to drain fluid from my ear and restore some of my hearing, but unfortunately is currently adding a bit more hearing loss and distortion to my hearing even after the ear fluid has gone.
If suitable I would prefer an ITE air conductive hearing aid rather than surgery with a bone conductive hearing aid. But I'm not sure if my conductive hearing loss is to severe for it work.
I would love to hear from anyone who has similar conductive loss and uses hearing aids to their benefit.
Thank you for reading.