In another post I inquired about on line vs local audi purchase.
My big concerns were so called "gray market" hearing aids which would void warranty and paying for follow up i may not need. I found a couple of articles discussing follow up visits in in The Hearing Review, a trade publication.
Per those articles even new wearers average 3-4 follow up visits.
One company which i am so far impressed with is Zip Hearing. They post their prices for all major manufacturer's aids as well as retail prices (what i would likely pay in an audi clinic locally.)
They have a statement re: grey market . They are NOT gray market aids.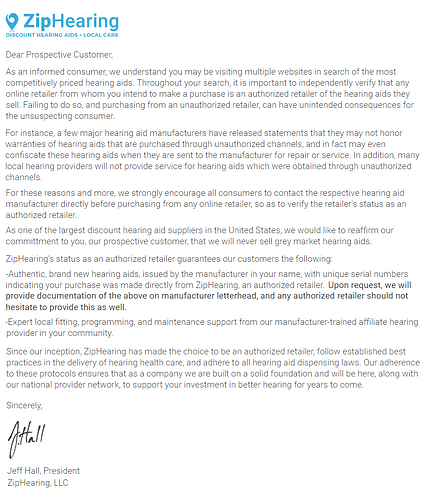 They will provide me with name of audi i will be referred to so I can call with questions !!
What's included with my purchase?
Personalized hearing aid fitting: Based on the results of your hearing test, your local ZipHearing provider will professionally fit and fine-tune your new hearing aids to your unique needs.
Full manufacturer warranty: All hearing aids purchased through ZipHearing include a full manufacturer warranty. Warranties vary in length from 1-4 years and are all-inclusive, covering loss, damage, and mechanical breakdown. To find how long the warranty period is for a hearing aid you're interested in, find the hearing aid on our price list.
45 day 100% risk-free evaluation period: Once your hearing aids have been fitted, you'll have 45 days to evaluate them. All appointments with your local provider during your 45 day evaluation period are included at no additional cost. If you decide to return your hearing aids within the evaluation period, you'll be issued a 100% refund.
1 year supply of hearing aid batteries: Just days after being fit with your new hearing aids, you'll receive a 1 year supply of hearing aid batteries delivered direct to your door. We provide top quality Rayovac batteries which have a shelf life of 4 years. Batteries will last between 3-21 days depending on a number of factors.
Follow-up care: Once your 45 day evaluation period has concluded, you are entitled to an additional 3 follow-up appointments during your first year of ownership at no additional cost. After your first year of ownership or 3 follow-up appointments (whichever comes first), office visits will be billed at a rate of $35 for appointments lasting 30 minutes or less, and $65 for appointments lasting 30 minutes or longer.
-NOT INCLUDED-
Hearing tests: While our prices do not include the cost of the hearing test, many ZipHearing providers do not charge for tests. If they do, it is usually between $25-$99, and your health insurance may pay for the test. If you have a copy of a recent test you may not need a new one.
So as an example a pair of Signia Insio 7nx aids costs $4,600 at Zip and retail is $6,800( I assume this is bundled price inc. care for 3 years)
Now i know must pay for follow up beyond 3 visits if i go with Zip however over 3 years am i realistically going to utilize over $2,000 worth of additional care?
I may be missing something here but looks like Zip is a good deal. Are there issues i have not considered??
Thanks