You see all kinds of questions about brands of hearing aids (Is Widex better than Phonak, etc…), and the bells and whistles each of them have, and how much "improved" they are from their last model, but you see very little on the prescription formula used by each of the hearing aids. My thoughts are that the prescription formula is the single most important factor in how a hearing aid sounds, regardless of brand. And, associated with that, the fact that a Real Ear Measurement (REM) is done and the gains adjusted based on the REM. I thought I would try to illustrate how different formulas can be for exactly the same loss. Here is a generic ski slope loss that I used as example.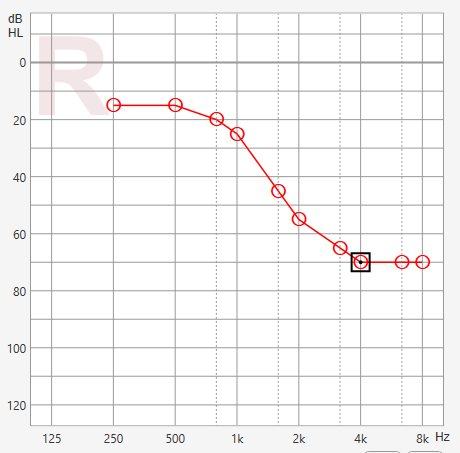 Following is the DSL v5 correction for this loss. I used closed sleeves for a fitting and a M receiver. What I think is noteworthy is that it actually attenuates the lows, and the soft sound gain (upper lighter curve) is almost on top of the middle heavier normal sound level curve. This means there is virtually no compression of soft sounds. There is still some compression of loud sounds, the lower lighter trace, as they are not given as much gain as the normal sounds. And last there is a high emphasis on recovering the highs, although whether or not one can do that, may be limited by feedback (the red shaded zone), and the fitting used.
DSL v5 - Adult, 100%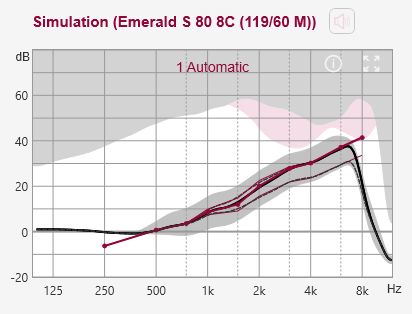 Next is the commonly used NAL-NL2. The noteworthy features are that it does not attempt to recover as much of the highs, is flat at low frequencies, and uses lots of compression for both soft sounds and loud sounds. Overall very different than DSL v5.
NAL-NL2, Adult, Experienced, Non Tonal, 100%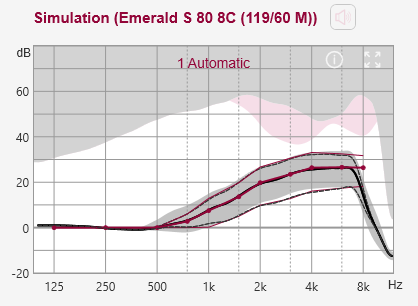 Rexton offers a proprietary fitting formula called SmartFit, which I expect is identical to the Signia Nx Fit formula. This is very similar to NAL-NL2, but rolls off the highs a bit and has perhaps even more compression in the midrange, with a little bit of gain in the low frequency. I would suggest it is insignificantly different than NAL-NL2. In fact I tried these two side by side and although I picked the SmartFit, I could hardly hear the difference.
Rexton SmartFit, Experienced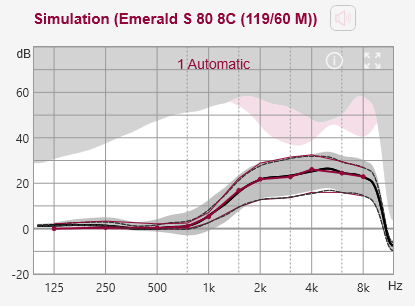 Last is the Adaptive Phonak Digital prescription for the same loss, an M receiver, but with a power dome fitting. This one is less similar to NAL-NL2, but has a fair amount of compression, and rolls off the highs more.
Adaptive Phonak Digital, Prescribed compression, 100%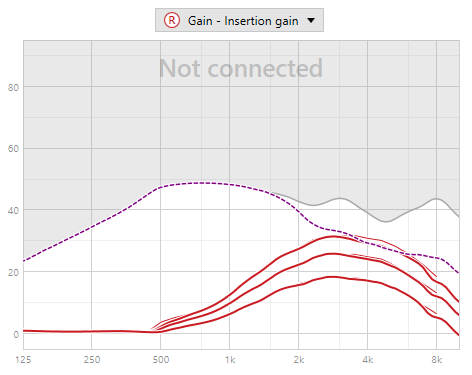 I guess my point is that the prescription formula can have a significant impact on the way a hearing aid sounds, but we are more likely to think of buying a new hearing aid when perhaps a new prescription formula is all that is needed. I did not do the NAL-NL1, and some of the other options. But most aids give you a number to choose from. Something to discuss with your fitter if you are not satisfied with the sound you are getting, or think it could be improved.