I was in a movie theater earlier today for a film that consisted primarily of women talking*. As usual, I was missing some of the phrases. On my Phonak Audeo V90s I tried switching from the Autosense OS "program" to Speech in noise and then to Speech in 360°. I noticed an improvement in understanding with the latter program.
When I got home I examined the insertion gain differences between Speech in noise and Speech in 360°. The gains in the first two grids, for the two programs respectively, are those from the DSL v5a Adult fitting formula, increased by about 6 kB across the board.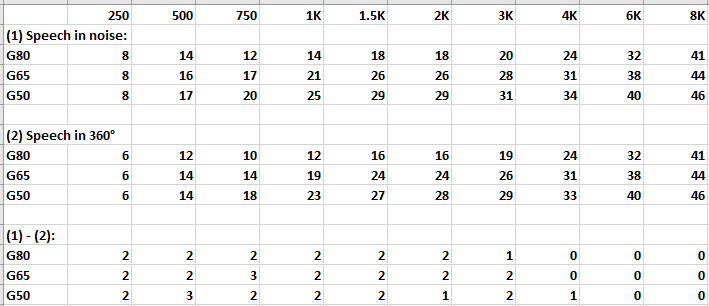 The gain differences are in the third grid, indicating that speech in 360° has about 2 dB less gain from 250 Hz up through about 3 kHz.
The description of Speech in noise:



The description of Speech in 360:



[I was just facing forward towards the movie screen, so I was "using" only the directional focus and not selection of direction.]
I am curious about the systematic pattern of gain differences between the two programs and how it might explain the improvement I noticed.
*The movie was "Little Women," which was excellent. Not only is it a masterly production, but all of the dialog is traditional standard English, which I enjoy a lot.