I have been reading some on this forum and feel like this is the best place for anyone with a hearing issue. I have many questions but would like to start with the basics.
I noticed everyone posts their hearing profile and it looks simple for my left ear: 250Hz 25, 500Hz 20, 1k Hz 20 and so on but how do I express my bad right ear?
I hope my test results show up as an image.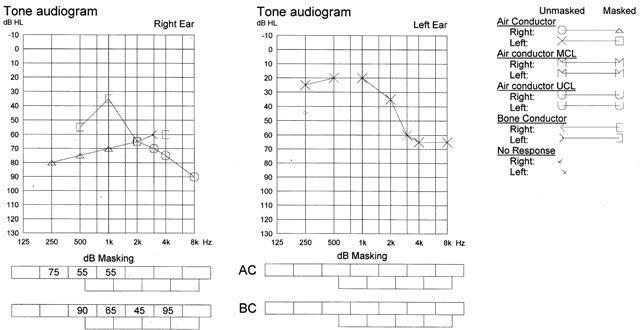 A brief history:
Tried my first Half Shells in 1988 and gave them back after the test period.
Bought a set of Rexton Digital Premium Canal from Costco beginning of 2005, went through a 2 month trial period and put them away until just a month ago while looking at the new aids at Costco and the fitter ask me to bring the old ones back and let here give it another try.
Tomorrow is my third session and frankly I don't know what to tell here.
I have been wearing them almost consistently, but don't feel I get much benefit just lots of noise without much gain in understanding people.