I have been trialing a pair of Phonak Audeo Yes V and finally got them working to my satisfaction. Not without several trips to the audi for a number of annoying processing artifacts that I simply could not live with. I would hear warbling and choppiness in speech, music and tones such as alarms etc. As is turns out all of these were related to the automatic feedback control (what Phonak calls WhistleBlock). With WhistleBlock turned off all of these artifacts are gone, and more importantly I don't get any feedback. My audi says that Phonak has a very aggressive and unique method for suppressing feedback, that to my hearing was just plain annoying. Since these are my 1st HAs, my audi suggested I try a pair of the Oticon Dual XW, which I am currently demo'ing.
So here are my impressions.
Sound Quality
The sound quality of the two are nearly identical in all respects in my typical daily work day, which includes quiet office, standard meetings, teleconference meetings, noisy cafeteria, and a very loud ambient noise environment in our lab that houses several chambers with compressors. Both aides handle these situations well.
Comfort
I would have to give the edge to the Yes, because it is slightly smaller, both overall size as well as thickness. The Yes works very well with my glasses, while I have a harder time with the Duals. My wife says the Duals are more visible, possibly because they are competing for the limited space behind my ears.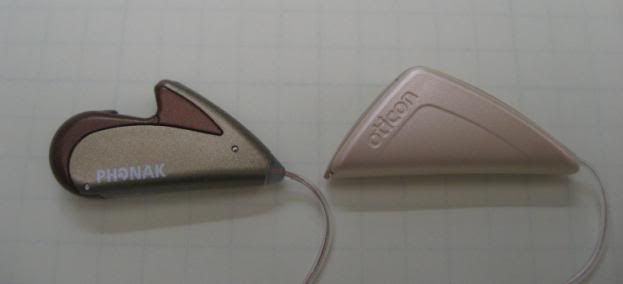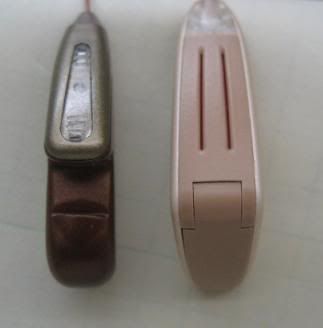 Battery
Both use the 312. I have been getting 5 to 7 days on the Yes, depending on how much streaming audio I listen to. Too early to tell on the Duals.
Streaming Audio (iCom versus Streamer)
I have the iCom with myPilot for the Yes and also got a Streamer to demo with the Duals. Audio quality is better with the iCom, since it uses a custom program tailored to my hearing loss. The Streamer audio quality sounds as though I am listening to music without my aides in (ie, very little high frequency amplification). This might be adjustable on the Streamers with program setting changes. Both are easy to use and require a neck loop to work well. Both handle either direct connection or Bluetooth connectivity for audio.
Bluetooth Cell Phone (iCom versus Streamer)
Both handled pairing and placing/receiving calls with ease. I give a slight edge to the iCom because the large single button is easy to use without looking - I find I need to look at the Streamer to find the small buttons to make sure I am pressing the correct one.
As for size, the iCom is square and slightly thicker, while the Streamer is taller. I would call the size comparison a tie. However, whereas everyone asks what the iCom is when it is hanging around my neck, the Streamer looks a lot like a MP3 player and doesn't draw a lot of interest. The Streamer wins the style contest.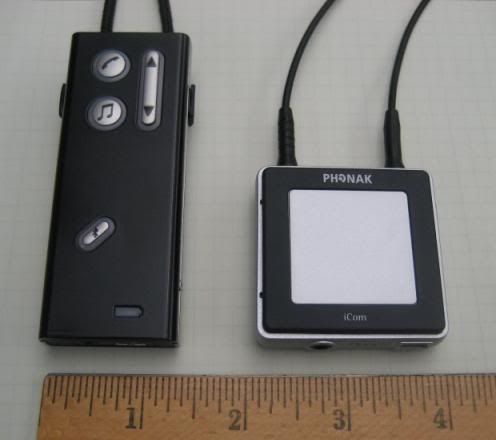 myPilot versus Streamer remote
There are definitely some tradeoffs here. The Streamer is both a remote as well as Bluetooth device, whereas Phonak requires you buy the iCom and myPilot. From that aspect the Streamer wins. However, I find the screen on the myPilot invaluable as I can tell at a glance what program I have selected or what volume setting I have made - no way to do that with the Streamer. In addition, the myPilot slips in my pocket and is with me all the time, whereas I tend to only where the iCom at work. If I want to slip the Streamer into my pocket I would have to detach the neckloop and put it somewhere, probably to get misplaced. The myPilot also includes an alarm feature (that I use every day as a reminder to call my wife at a certain time), time display (that I use all the time since I don't wear a watch), battery status screen (pretty useless since zinc air batteries work a full speed right up to the very end) and the ability to independently control streaming audio volume, Bluetooth volume, separately from the main HA volume control (which is very convenient).
Program selection (Yes/myPilot versus Dual/Streamer)
The Yes has 3 programs that it automatically switches between depending on the background noise conditions, plus it has an additional 4 manual programs that you can have your audi set-up, which you can then select using the myPilot and is displayed on the screen. The 3 automatic programs are Calm Situations, Speech in Noise and Calm in Noise, each with settings for microphone mode (directional control), NoiseBlock, WindBlock, WhistleBlock, SoundRecover (frequency downshifting), and dynamic range compression. For my 4 manual programs I picked Speech in Noise (more aggressive than the automatic program), Calm in Noise (also more aggressive noise blocking), Music and Mute (mics off). There are also independent programs for Bluetooth and Streaming Audio that are automatically selected when you activate those modes.
I am less certain about the Duals as to how many programs they have in the automation scheme. However the Streamer lets you select from 4 program locations. From what my audi told me, I can select from two different automatic switching algorithms, one a standard setting and one that is more aggressive in terms of noise control. The third is for Music and the 4th I picked as a Mute function (mics turned down).
My preference is to the combination iCom/myPilot solution, even though it costs more. I feel I have more flexibility and control.