I am glad you enjoy the MyMusic program Chuck, although some Oticon music lovers might disagree with the MyMusic exploits, if their comments are anything to go by on this forum? But, as you have always intimidated, hearing loss is such a personal experience, and what you love, I will possibly hate, and vice versa…. As long as it works for you, that's the main thing! Cheers Kev

I don't have a problem with Oticon introducing the MyMusic program, and it's good to hear that they got some award for it. However, they still made a bad decision to not make the legacy Music program available anymore. There's no reason why both music programs can't co-exist.
According to an email I received from my Audiologist the MYMusic program can be fine tuned to fit more into the music program mold, I have an appointment on the 27 of this month, for I believe an annual hearing test, and hopefully get a few issues I am having cleared up. I am nervous that my right aid may have to be sent in for repairs or replacement. It has some weird issues that my audiologist nor the Oticon reps have been able to straighten out.
The MyMusic program is indeed, adjustable within Genie 2.
My audi set the gains in the fine tuning screen to better define the mid-range frequencies, which I found to be the main problem with the program.
@Volusiano there is really no need to have 2 music programs with the More, because , as @cvkemp , and I have poiinted out, you can indeed make changes to the default.
@kevels55, I was one of the more outspoken critics of the MyMusic program, but have since been able to enrich the soundscape to a satisfactory degree.
Yeah @flashb1024, I am glad you have found a way to resolve your MyMusic, ''tis excellent that you now find it more satisfactory…. Unfortunately for me, all music sounds off key, or out of tune, perhaps the thing I miss most, whilst living with hearing loss? I can listen to pre 1990's stuff, and between my aids, my memory fills in the gaps, but perhaps concentrating takes the edge off the sheer pleasure of just listening…. Cheers Kev

Unfortunately not everyone is a DIY person, or someone lucky enough with an audi like yours who knows how to fix MyMusic to your satisfaction. They may not have the ability to express what they find lacking properly to their audi so their audi would know what to adjust either.
It would still be better to leave the original legacy Music program alone and available, then add MyMusic with the ability to modify it further to one's heart's content on top of it. That way, everyone is happy, including those who don't want to mess around with anything at all, or have to ask their audi mess around with anything at all.
But I agree that it's not a deal breaker like what people might have thought before, where they can't go back and didn't know if they could go forward with adjustments.
@Volusiano : This is very well stated. I've discovered, just in posting in the subject of what my live guitar playing sounds like through MyMusic, that it almost takes another guitar player to "get" what I'm trying to express - it's hard to express it in "plain English".
I would have been much happier to have been able to enjoy the Music legacy program until such time as my audiologist and I could get the new, improved, "Award-Wining" MyMusic to sound right.
That said, Oticon does deserve an award for breaking through the "speech-is-not-all-that-matters" ceiling!
The key as for my concerns has been a great communication with my Audiologist, as well as my Audiologist been willing to talk to Oticon and get answers. Yes, as I have read some don't have Audiologist that are willing to take the time or maybe it is the fact patients/customers aren't willing to push the issue with the Audiologist.
I have to admit I have been dealing with VA Audiologist for over 18 years and have learned how to push their buttons. Back when I was dealing with a private practice I was uneducated in hearing loss, hearing aids and Audiologist and didn't know to ask the hard questions.
I may be overstepping it, I know I am not paying the outrageous price for aids that too many are, but if I was I would even be pushing much harder for the correct fit and really asking the hard question.
Is MyMusic title listed in the Oticon app? I asked my Audi to add it to my Mores and he added a program # 3 but doesn't appear to be correct.
Yes the MYMusic program is also my third program. It definitely is a music program and I have to lower the volume of my hearing aids a couple of clicks when listening to our Bose sound system as compared to my default program
If he did add the MYMusic program, than for sure, when you look at the ON app, it will show as "MyMusic"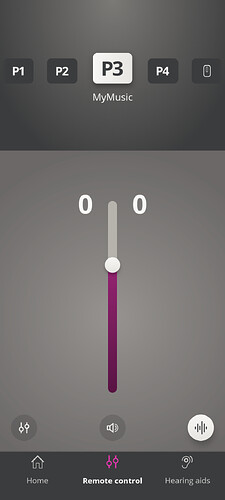 I truly empathize with you Kevels.
Thank you @flashb1024, much appreciated….

If the program shows in the app then it is programmed in your aids. The app only shows what the aids report to the app.
I know what you mean. My right ear hears soft notes at a different pitch than my left ear. Maybe 10 or 20 cents (hundredths of a semi-tone) off than my left ear. That bothers me as an amateur musician. I would guess it's recruitment.
@Volusiano
I thought that legacy music program is a normal program, but almost all aids and automatic turned off.
I don't understand your statement "but almost all aids and automatic turned off."
But yeah, the legacy Music program was a built-in program already set by Oticon for you to select if you wish to use it. It has noise reduction and a number of other features disabled to open up the sound field even further from the signal processing. They probably program it to minimize the compression ratio as well.
Chuck, I don't think you meant this for me, did you?
I posted the screenshot above for @joesan
I wonder if there are "hidden" features that doesn´t show in Geni, when using "Music" program.
Anyway, when looking OPN 3 "Music"-program in Geni, gain control values are the same as other programs. But with More 1, gain controls values differs a lot from other programs. A good thing is that you can adjust them, as someone here mentioned.
As you mentioned, with "Music"- program Open Sound Navigator (Opn 3) / MoreSound Intellicence (More 1) is disabled and directionality setting is "omni" fot both. In "Automatics" Transient Noise Management is turned off.