Anyone know where I could download a copy of Oticon Genie 2 software
Thank You
Check your PM for the required software.
Hi, can you also give me the link pls?
For DIY Help; Click PVC's Avatar on any PVC forum post; Click PVC's Featured Topic;
and find Fitting Software Links and Sources…
You will find Oticon Genie2 readily available there. You can post a request for Genie and/or Genie2 there.
Hello everybody,
I changed from Phonak to Oticon.
I am searching the latest Oticon Genie 2 software.
Anyone know where I could find it ?
Thanks in advance !
Welcome back. Tip: Click any PVC Avatar to find DIY School.
Suggested DIY School reading;
Choose Hardware-Programming Device for Oticon
Fitting Instructions Oticon Genie2; More-Own
Fitting Instructions Oticon Genie2; Opn-OpnS
Noahlink Wireless - DIY User Guide
Hi there, long time no see member, don't forget you'll need the Noahlink wireless programming device as well for your new DIY project, what models did you choose from Oticon, I'm sure you'll notice quite a difference coming from Phonak.
Sorry, but the hipshot/generic/cover-all answer above is not necessarily correct as you can easily see for yourself by reading a DIY School PDF file named (Choose Hardware-Programming Device for Oticon). For examples;
You can also use Hi Pro and Flexstrips to program your Oticon hearing aids. This option may make sense for you if you already have a Hi Pro and flexstrips and don't want the extra expense of buying a Noahlink wireless for wireless fitting.
Some custom models in that same document are are not capable of wireless fitting because they are built with a Telecoil, or because they are too small to have space for a wireless radio.
Here's a partial clip from (Choose Hardware-Programming Device for Oticon). Tip: Click image to enlarge;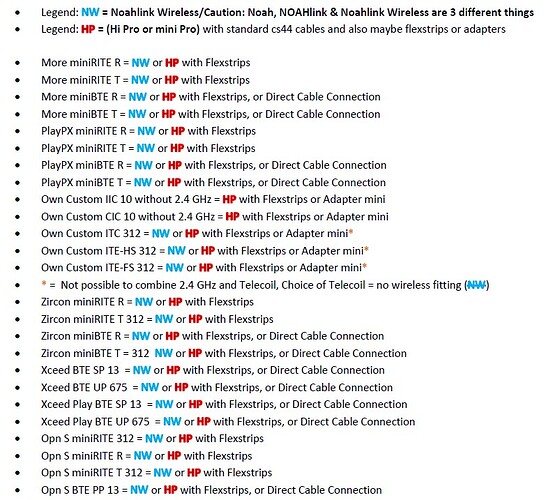 Hi,
Many thanks for the advices !
Last year, I found by chance a Noahlink wireless on ebay.fr (yes, I am french, sorry for my poor english), only one to sell. I bought it, but up to now I haven't tried it.
My Phonak were B50. A little bit old now, without a lot of options in the software, but I had a quite good sound by spending some time for a fine tuning. And I would like to do the same thing with my new Oticon More 1 miniRITE.
I will have more to say next week, I hope !
Thank for all
I think you will love the More 1's.
ETA: She loves streaming from the TV Adapter (was for Oticon Opn, now More) because the streaming dialogue is very clear and can also be adjusted in the fitting software;