I got my first HAs 6 years ago and went to Hearing rehab center. I chose them really not knowing very much about what a good audiologist meant. I went to PAC Audiology before choosing Hearing Rehab Center but had an awful time. hAs didn't fit tell comfort wise, she didn't tune many things and just didn't seem to want to spend time with me to tweak things.
My experience with hearing rehab center was fine but then the owner retired and the business changed hands. The new owner and Audi was terrible at following up, couldn't answer basic questions etc. the place over the years kept changing hands and various audiologists would work there then leave.
I then realized the bad thing about small private practices. You pay so much for HAs which bakes in the price of service, but if the place goes out of business you are out of luck.
So I decided to go to a bigger business To prioritize longer term service reliability. I chose to go to the Listen for Life Center at Virginia Mason Hospital.
The audiologist (Colin wong) was ok. He knew more about newer HAs including streaming, MFi etc and spent more time tuning stuff. They also did RealEar measurements so these were all good signs. Unfortunately I then learned the other lesson of audiologists: they don't carry all brands so you then are limited to choose what they carry. I wanted to try the Resound Linx or Starkey but they only carried Widex and Oticon. After trialing the Widex Beyond 440 and Oticon OPN 3, I went with the latter.
During fitment I ended up getting molds (see following photo) since I couldn't get the wire to stay in place. It would always wiggle out so they recommended molds as a way for better fitment. After struggling with occlusion for first week I got used to them. But I do miss my open domes from my Starkey as stuff just sounded more natural.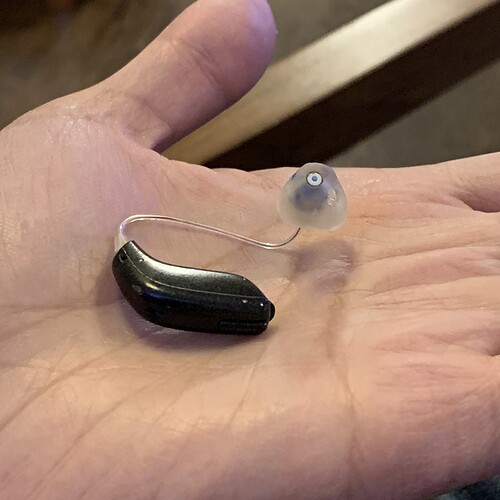 To this day I still am not sure I should've gone to custom molds just because the receiver wouldn't wiggle out of my ear. In retrospect it seems like a pretty big change to fix this problem at the expense of more occlusion and less natural hearing.
Most recently I've tried to get my over the ear headphones working to wear with my Oticon. When I wear them with my HAs on, I get a ringing feedback noise that I never got with my old Starkey Xino i110.
The Audi has tried to fix it by giving me a headphones profile but he basically gave up saying that's the problem with wearing headphones.
This makes me think I need a new audiologist that is willing to make more tuning adjustments and just more knowledgeable in general.
So I'm looking for an audiologist recommendation in seattle. I live downtown but am willing to drive for a good audiologist (although not too far, probably 20-30 mins max). Ideally someone who can service my existing Oticon, but also someone who carries Resound, Phonak and Widex since those 3 brands are on my next list to buy. I know it's unlikely the same AuD will sell all 3 of those and service my OPNs, but who knows, maybe i'll luck out?