@turners1962 Thank you, Bob. I appreciate it. I hope it goes well too.

@nedunla Thank you. I've heard Pebble watches are great! I thought they were hard to find. Thanks for the suggestion. I'll check on those.
Thank you @Sequoia_Woman for your kind thoughts and wishes!
Yes there are devices you can put under your pillow. Some of the have extreme shakers. One of them is called the Sonic Bomb. Some of the others I've considered either don't work as advertised or are too expensive. I'm not a heavy sleeper so being jolted awake is not the way I want to get up in the morning, LOL! So far I haven't been able to train my pups to wake me up when I need to get up. They'd rather wake me up at 2 or 3 AM when they decide they need to go potty.
If you want to be paranoid ( in spite of the real facts), why stop at smart speakers? Your HA's are undoubtedly recording everything you say, sending the data back to the OEM who's reselling it, etc.
@jim_lewis Jim, those suggestions are very well thought out. The loud volume items might work, but I would have to turn the volume up very loud. That would wake my husband and my pups. I've though someone should invent a vibrating pad alarm for people hard of hearing.
Thank you for the well wishes for my surgery. They are very appreciated.
Well alexia will still function and makes a great timer and alarm without being connected to the internet or wifi.
@grantb5 Grant, I've been thinking about the Watch Minder. Still under consideration. Good to hear from someone that's used the device and can tell me that it does work for you. Thank you!
@cvkemp I didn't know that about Alexa. I assumed you needed the internet. Learn something new every day.
My wife was given one for Christmas and I refused to connect it to the network. But it does work as a timer for her cooking
This is what I've been using. I put it under my pillow. Yesterday, it fell off the bed. This morning, it worked perfectly. I was asleep and it woke me up. All last week, I'd wake up before it went off. Today, I had to make sure my husband was up to go and meet his brother.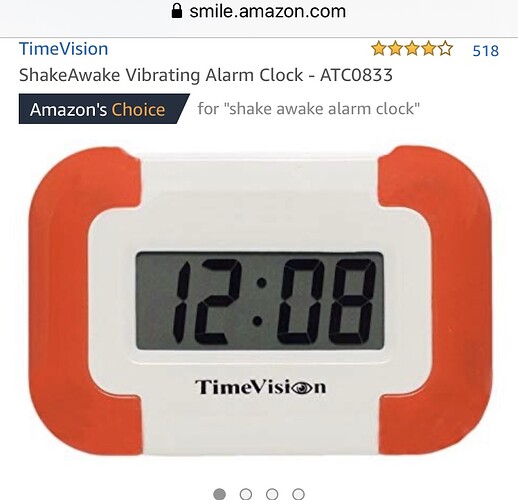 I am going to leave this one alone (the despite the "real" facts) for a number of reasons…
I'm not sure how this would cause one to wake up, but it can be used without the nature sounds and the light wakes people up. I'm still thinking vibrating watch. If anyone has used this, opinions?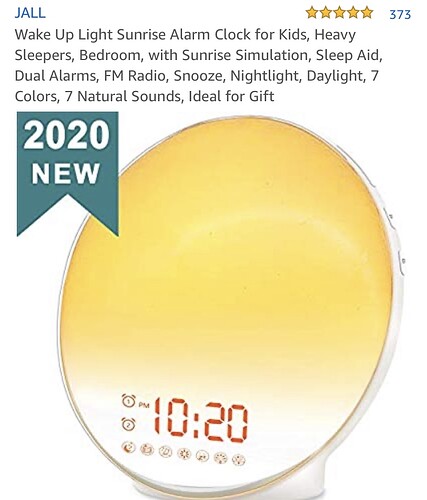 @ahearingaid I spent most of the night last night trying to figure out the alarm thing on my Alta 2. I think it has to do with the sleep tracking which I haven't used in a while. I think you set the sleep time and the wake-up time and it's supposed to vibrate at the wake up time to wake you up. I tried setting a wake-up time near the time it was last night, but it didn't vibrate. Will try again.
Do you have the Versa Lite or the Versa 2?
@patgreen The Xiaomi you have, is it the band 4 version? I see a 3 band as well and want to make sure I'm looking at the correct one. It looks like something I might get, it's affordable. Thanks.
I have the versa and versa 2. They can be program right on the watch for Alarm.
I have an Echo Show 2nd Generation plus 2 Echo Dots (1st & 2nd gen). Can't test the Dots right now as wife is using Internet to do patient charts. But it's easy to turn off Wi-Fi on the Show device. It announces that it's sorry that it can't connect to the Internet so that no new timers or alarms can be set but it will still deliver any timers or alarms that have already been set. I'll see what my Dots have to say later. The above info would be relevant to the topic of the thread because if you used the Show as an alarm to waken you, just as Chuck says, you wouldn't have to worry about a power outage or Wi-Fi/Internet disruption. Any of multiple alarms or timers already set would still go off.
Edit_Update: I've tried getting my 1st and 2nd generation Echo Dot devices to create new timers or alarms with no Internet connection. For me, it doesn't work at all in either of several ways.
I unplugged my cable modem while leaving my Wi-Fi router running, effectively providing a LAN (Local Area Network). Both devices respond to a request for a timer or alarm creation with something akin to "I'm having trouble understanding you. Please try again later." The Echo Show gives the same response as noted above - will honor already set alarms and timers but no new ones can be created.
If I leave the cable modem plugged in but unplug my Wi-Fi router, both Echo devices respond that they have no Internet connection and to please check the HELP section of my Alexa app (on my smartphone).
So, @cvkemp, you did mention "Well alexia will still function and makes a great timer and alarm without being connected to the internet or wifi." - are you sure it's an Echo device or could it be a Google device? Or is there a trick you employed to get it to work - or could your wife be using her phone as a mobile hotspot to connect it to the Internet after all - or something like that? Or maybe the latest and greatest Amazon devices have standalone capabilities that earlier Amazon Echo devices lack?, i.e. what model device has this standalone capability?
I think expecially in a post-9/11 world, folks had better get used to the fact that they're going to be tracked. Life has changed forever. I went to England in the 90's and was surprised to find a lack of public trash receptacles in London and security cameras everywhere. When I asked my British in-laws what was up, the answer was the IRA. Facial recognition by Internet servers is now taking tracking to potentially a brand new level.
The newest credit cards coming along that advertise "Pay by Sweep" (I've got one) appear to have embedded RFID chips. Your smartphone and probably your hearing aids can probably be triggered by bluetooth beacons to reveal your presence at numerous locations, how long you pause in front of a store display, what parts of a store you like to visit, etc, if you have BT turned on and apps on your phone with beacon detection capability are running with the right permissions. Even if stores and other institutions don't scan an RFID chip embedded in your credit card to detect your presence somewhere, if you've looked at the details of your credit cards, bank accounts, etc., it may very well say that they can share information about your purchases with their business associates and you may be required to opt out if you don't want this to happen.
Banks do get robbed. But that doesn't mean it's not a good idea to keep one's money in a bank rather than under the mattress or in a chest buried in the backyard. I'm sure the same is and will continue to be true of smartphone, smart speakers, credit cards, and hearing aids (if you use the GPS HA program features of some hearing aids such as the ReSound Quattro's have when connected to one's smartphone, I'm sure ReSound if it wanted to could track my behavior). Many people feel that just like having a good butler, a good personal (real-life) assistant there are advantages to having a helpful software assistant tracking your routines and needs, making helpful suggestions, at least up to a certain point. Hopefully, tech journalists and government agencies will help assure real privacy when needed just as one might ask a real personal assistant to step out of the room when making a very personal call to another family member or relative.
I have both an Invoke Cortana and a Echo Dot in my bedroom. There is nothing much really going on in my life that I feel that I need to hide from anyone. Sometimes I even put my Echo Show on my night table, too, so if I'm expecting someone early, I can answer the Ring Video front doorbell from my bedroom and see who's there without struggling to get to the right screen on my smartphone or without getting out of bed and traveling 40 or 50 feet to the front door, before the visitor decides to go away. But I do unplug any smart assistant that happens to be in my bedroom before I have sex with my wife! And I'd recommend that anyone else when they're worried about privacy just do the same-or throw an upside-down bowl over the device.
For whatever one has to do, one always has to weight the benefits vs. the potential liabilities. I basically want to be able to ask the Internet a question from wherever I am most likely to be in my house and get an answer. If you look at Starkey, Oticon, (and Phonak?), HA's are moving in the direction of having connection to a smart assistant embedded right in the HA's themselves. Maybe someday just like digital has replaced analog, it will be hard to buy an HA without a built-in smart assistant?
I don't know anything about cochlear implants and how much one wears to bed with one. But a concluding thought for debbie_o is that if the cochlear implant still works when sleeping, perhaps there is a way or will be someday to have a gentle wakeup sound generated through the implant to alert the wearer without waking anyone else in the room or have the potential annoyance of a vibrating sleeping mat, if that's not an attractive option.
Edit_Update: On wearing a cochlear implant to bed:
" Can I sleep with a cochlear implant on?-

No. The implant is likely to come off during sleep, and it could get damaged. It is recommended that you remove the device prior to going to bed. If you live alone, please consider additional assistive listening devices for alerting purposes."
Unfortunately, the FAQ does elaborate on "additional assistive listening devices…"
and more info on newer "Tap-and-Go" credit cards - more secure than old RFID cards and faster than Chip-in-a-Card (EMV) chips: https://creditcards.usnews.com/articles/should-you-be-worried-about-tap-and-go-credit-cards
My wife uses the timer all the time for her cooking and it is not connected to the internet. I am the only one that knows the code to connect it to the internet, and it does not show in my router list. And it answers to Alexia.
My Fitbit Alta 2 doesn't alert at wake up time. I think that is stupid. It has an app reminder for when It's time to go to bed, no vibration and when it's time to get up in the morning, no alarm/vibration to wake you.
@patgreen Pat, I did go and order the Xiaomi last night. It will be here tomorrow. I'll let you know how it works for me.
If you can still get Serene Innovations instaLINK Smart Phone Alert Watch - Try Harris Communications - it is the best on wrist vibrator I have found. I cannot make "watch" work, but get really nice strong vibrations for calls, texts, emails, alarms and (best of all for me) LOST BLUETOOTH CONNECTION!! Buzzes as I back out of driveway if I left my phone in the house!!!
Connects to iPhone great. Had a friend who could not get connect to Android. ???