Yeah I know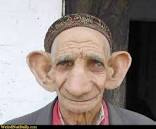 My father in law lost some of his hearing from the use of Viagra.
Thankfully there is a better drug than Viagra these days. It's called… Mycoxafloppin!
From the article cited:
Other risks of taking Viagra include vision loss, indigestion, a runny nose, sensitivity to light, headaches, fainting and dizziness.
I don't take Viagra, yet have seem to suffer all the side effects. Maybe I should start taking it as I won't notice any adverse effects.

On a more serious note;
Take a look at the side effects on their website.
sudden hearing decrease or hearing loss. Some people may also have ringing in their ears (tinnitus) or dizziness. If you have these symptoms, stop taking VIAGRA and contact a doctor right away
Viagra… Half aspiring & half Fix-a-Flat.
LOL!!! That shot made my day!
But seriously, I thought Viagra increased the blood flow … and come to think of it for YEARS I was told to take 100 mg of flushing Niacin every day, as it was to improve blood flow to my EARS. It made my face beet red, and I actually gave up taking it in my early 40s cuz it became intolerably ITCHY with the flush.
Yeah, my first guess on Hef's being deaf would be … he's OLD. But it seems his condition may have been aggravated taking Viagra.
yea the fda just figured this out after all these years right
Niacin should always be taken with food, it will stop the "Niacin High" as doctors call it from happening. Also if you forget and take it on an empty stomach one piece of bread will stop the reaction very quickly.
Food definitely helps, but individuals reaction to niacin vary a lot. Back when we thought it was helpful to reduce risks of heart disease, I worked with a lot of patients to try to tolerate it. Some never could.
Note: Even though it does reduce bad cholesterol and improve good cholesterol, it does not reduce risk of heart attacks and strokes and is not recommended anymore.
Thanks Seb! I also found that MILK calmed things down pretty quick with the flush. Well, it's been easily 20-odd years since my last niacin. It's in multi-vitamins, bread, etc., but the flushing niacin was simply too much for me long ago.
All of us have ever or will ever use Viagra, So I don't see anything funny in here. It is hard to live with an erectile dysfunction diagnoses and to have a normal sexual life without pills. You will understand that once you will have ED, and trust you will definitely have it. This is normal, and the only one thing you can do is to deal with this disease. I think you need to read this article norsk-apotek.com to understand what I am talking about and how you have to deal with that disease. Go on and read the article , you will like it
I'm rapidly coming to the conclusion that there's not one damn thing good about getting old.
You have to get old. You don't have to grow up.
Youth is given. Age is earned.
My remark was intended to be humor. I'm not quite sure what your point is Don
FYI I started taking Niacin a year ago for bad cholesterol and my doctor told me to eat apple sauce afterwards for the flushing. I'm surprise nobody seems to be aware about the apple sauce. Around the first of the year I was feeling pretty good and stopped eating apple sauce boy was that a mistake. I got the itches and got red botches on my skin. Then it dawned on me to eat the apple sauce. Back to normal.
Hell if I were Hugh Hefner I might have considered it a fair trade
The decision to use Viagra (or even better and cheaper, a generic derivative, now that one is available) is a personal choice, not a medical necessity. So it's hard to get too worked up about people who don't read the possible side effects or blow them off, and happen to be amongst the minority of folks who suffer undesirable consequences. Because of genetic and environmental variability in the population, there is no "one size fits all" solution to prescription medicine. Needing a prescription means a drug can have bad side effects in spite of its good effects and should only be prescribed if determined to be medically necessary to achieve the "important" desired effect. I have been taking 100 mg of Viagra occasionally for years and have not gone deaf or even suffered further hearing loss beyond the state I was in 10 years ago. I have even (against the prescription and my wife the MD's wishes) tried TWO 100 mg tablets at a time (not a good idea - the "feeling low" side effects are worse with 2x the dose). BTW, white grapefruit juice (but not pink) is supposed to contain a substance that inhibits the breakdown of sildenafil, the chemical name for the BRAND name Viagra. I consume about an 8 oz glass of such grapefruit juice an hour before popping a pill but I am undecided as to whether the grapefruit juice helps or inhibits the uptake. When you get old, I think a lot of sexual arousal (at least for me) revolves around mental disposition, both for yourself and your partner. If the mental outlook is not there, all the pills in the world may not help. And looking for answers, I once came across a great and very philosophical post that detailed the progress of sexual aging and concluded, "Give it enough time, when you get old enough, you're not going to be thinking about or even care a damn about any of this. You'll just be existing."
I also consulted a urologist. The best treatment for erectile dysfunction is injections of a cocktail of 3 drugs directly into the penis. The effect only lasts about 15 minutes, the cocktail has to be compounded by a pharmacy specializing in the manufacture of drugs. the compounded cocktail is very expensive (about $300 per injection last time I checked), and very likely is NOT covered by one's medical insurance. You have to be trained on how to inject yourself (it can be painful) and if you screw up, you can permanently damage your sexual organ (one side effect is that it could get bent out of shape, no longer straight when aroused!-and thus tough to engage in sex with!)
We are marvelous biological machines. Just after being "manufactured" de novo, we are marvelously young and strong. As time passes, as for all machines that occupy a physical space, things break down and wear out and detritus accumulates within the machine.
BTW, the NY Times once had a very interesting article how Viagra was becoming a youthful male recreational drug for YOUNG guys who expected a very hot date and did not want to disappoint. I wonder, if the incidence of Viagra (sildenafil) caused hearing loss is significant, whether some years down the line, there won't be a big blip in hearing loss amongst the aging? You took your date to a REALLY LOUD rock concert, later popped a pill, and now your hearing is going to be toast EVEN MORE SO some time down the road…???