Five Forum Tips follow:
TIP #1: Here's two methods to help navigate the forums; Navigation Method 1 is for navigating only the main forum categories. Click the Blue-Ear-Logo to navigate the main forum categories. The Blue-Ear-Logo is always in the upper left corner of your display. If you get lost, click the Blue-Ear-Logo to find your way home. When you read a topic you will start from the top initially. But after you read all the replies you will start from the beginning of new replies when you return to read this topic again. You will also start from the top if you are not logged on. The Blue-Ear-Logo looks like this:



Navigation Method 2 is for navigating all forum categories. Some people prefer to navigate all forum categories using two mouse clicks on (Hamburger and Latest) like this;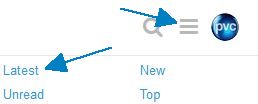 TIP #2: Here's how to enter your Audiogram;
Read the instructions below and then visit your Profile https://www.hearingtracker.com/my-profile
Once you are in your Profile then find links to:
Enter your audiogram, or Update My Hearing Test
There are two ways to enter your audiogram. Graphically you can mouse drag the X's and O's around or switch to Manual Entry to just type in the numbers.
Many Hearing Tracker members now have their audiogram numbers graphically depicted in a colored chart that can easily be made available for viewing with just one click on their avatar. When you are reading a topic/thread (like this one) you may notice that some avatars have a little "avatar flair"/headphone icon at the lower right of the avatar. That indicates that they have entered their audiogram for other members to view. Click one of those avatars now to see what your audiogram will look like after you enter it.
TIP #3: Here's a link below for how to change your Username to replace that ugly system generated username like this one (621f74f0c27b178b6449). How to change your username (and name). Don't forget to Save Changes.
TIP #4: Here's a link for How to Upload an Avatar.
Avatars look like this:

TIP #5: You may have noticed some members have a Flag and Location atop each post. You can personalize your profile with extra information. Click the following link for instructions on how to
Enter Location, National Flag, and About Me.