Greetings!
My name is Abram Bailey, and I am the president of Hearing Tracker, Inc.
I would like to formally introduce our recently launched website http://hearingtracker.com
Hearing Tracker is completely devoted improving success with hearing aids through seeking honest and open consumer reviews. Click on this recent hearing aid review for a sample of what our reviews look like: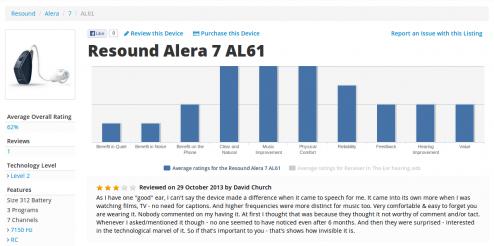 For a better view, see the
(http://hearingtracker.com/styles/538)

What makes Hearing Tracker different from other product review websites?
Reviews are linked to audiograms and hearing professionals. Is the device successful for mild losses? Severe losses? Who fits the model best in my area?
Hearing Tracker allows you to filter reviews based on your own audiogram, excluding reviews that aren't relevant to you and your hearing level.
Hearing Tracker forum posts are linked to user profiles, where you can see the user's reviewed devices and audiogram, on a graph!
Hearing Tracker sends you [free hearing aid batteries](http://hearingtracker.com/batteries) for each review provided
For a full breakdown of benefits please visit our new [Consumer Guide](http://hearingtracker.com/consumer-guide)
Hearing Tracker was developed from the ground up specifically to account for the issues of variability in hearing loss and audiologist skill level. Reviewing hearing devices is unlike reviewing any other product on the market because of these factors, and now we finally have a way to isolate the product quality!
We are a young company, and need your help in getting our new system off the ground, so we can help the multitudes of people looking for good advice about hearing aids.
Please visit Hearing Tracker today to review your hearing aids today. Don't forget to consult the Consumer Guide if you get lost!

Best of all, we are here to help you with any questions you may have. Please contact me at abram@hearingtracker.com or reply to this post with comments/questions.
Many thanks, this has been a long time coming,
Abram Bailey
Au.D., MNZAS, ASHA CCC-A
President
Hearing Tracker, Inc