That audiogram is not her brothers audiogram.
As explained already. Her brothers audiogram is in her profile.
That audiogram is about her friend which this thread is about.
This audiogram that is her brothers, does need Naida UP Aids.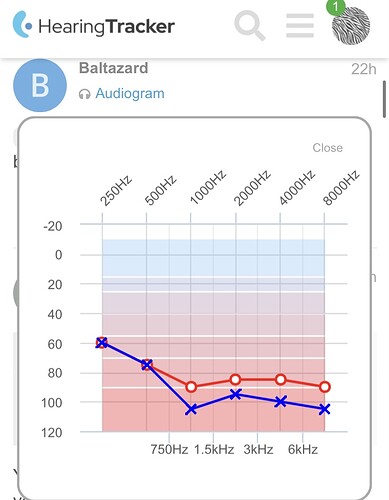 This is her friends.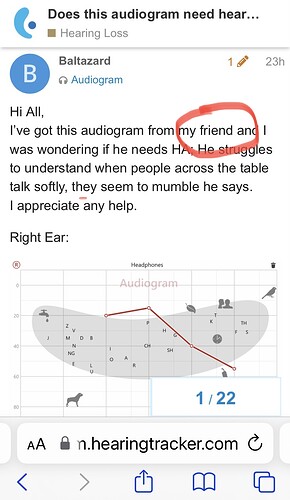 Well if this is her brother's audiogram then she shouldn't have put that one in her profile.
I'm confused?!
As already said, her brothers audiogram IS IN her profile.
She's regularly on this forum for her brother BUT ASKED a question for a friend.
I'm wondering if you're confused as to whose audiogram is who's?
Are you expecting her to delete her brothers audiogram and put in her friends audiogram despite showing her friends audiogram at the top of this thread and saying it's her friends audiogram?
This doesn't say 'friend' as the thread is about. It says 'brother'.
Clearly it's two different people.
See first post -
Thanks @Zebras spot-on and it's He not She


@Terost the screenshots I have posted are my friend's and this post is regarding my friend.
The audiogram on my profile is my brother's who uses Phonak Naida UP; I have joined this forum in 2010 to help my brother finding the right HA and answer to his/my questions.
But, this particular post is regarding my friend, who has just done a hearing test and he and I were wondering if he needs HA.
Sorry. There's always guessing on who forum users are.
I love you. Your helpful spirit and in-depth knowledge are so valuable. And you're not too big to apologize.
WH
Is that for me?
If so, thank you.
@Zebras no worries

Y. It is for you. I am glad you have such in-depth knowledge of older equipment and programming, ALDs, etc. not to mention knowledge of how things work with your country"s NHS. People like you are priceless.
WH
Thank you for being nice.
It's the first time l saw a profile with audiogram that belongs to someone else.
Case closed.
A long time ago, my audiogram was similar in the treble, but more mild loss in the lower tones. The audiologist said I have a choice to wear HAs or not. I think this is also because my speech recognition was about 95%. (My hearing has deteriorated significantly since then!) But since the mid to lower tones (speech tones) seem to be worse, in my humble opinion, I think HAs are on board, but don't take me seriously because I am not a professional nor an audiologist! But I myself would ask for further screening, such as speech recognition, etc.
I have significant hearing loss, yet I still have good word recognition on tests. Yet I ask "what?" a lot on the phone or in a crowd with or without hearing aids!
When I got my test they did two versions for speech recognition. One with someone talking about a topic, explaining something. Even at low volume levels, I understood that perfectly.
But then they had the same speaker saying single words. At the same volume levels, my comprehension dropped to around 30%. And even then I was working very hard to piece together what was being said. Portions of the sounds that make up a single word were missing, which left me with multiple possibilities and the need to just guess.
The difference is context. Topical or grammatical. When we know what topic is being discussed (or even if someone starts talking out of the blue, if we can get a few words) we can string together a coherent thought - but only if we have something, anything to hang it on. That's why in a conversation I'm usually not too bad (given decent conditions). But if someone starts talking and I have no contextual reference, often I'll miss the first part of what they say, start figuring it out mid-sentence, but I can't be sure what they meant without the first part. So I'll say, "What was the first part?"
Another indicator is that someone will say something and it takes me a second or two after they stop for me to piece together what it was they said - which means WAY too much mental processing effort is necessary. (Running through multiple possibilities and picking one that makes the most sense.)
Both of those were happening so often with me that it finally sent me to an audiologist. It's just too much work, both in my mental processing and for the speaker to stop and repeat, and it degrades the whole communication process.
This is why I tend to concentrate less on test numbers and more on paying attention to real-world effects. Communication should not be hard. If it is, something needs to be fixed.
YOU MEAN LIKE THIS?

(yes this is the body)
Edit - for context, there was a post that I replied to that said something about saying things differently.
Had a funny conversation with my wife, went something like… She said something and I asked, what was the last word?, she said, "with a Z", I said, "C"? She said Z, I said E?, she said Z, I said B?, she said, never mind. I said, now you know how if feel when im getting a WR test…
lol ZED!
What happened to the little repeat characters truncation trick?
Question,what is the difference between word recognition and speech recognition? my word recognition score is 84