Has anyone had experience with Signia Xperience? I have the Rexton Adore LI from Costco and looking to upgrade.
Cheers
Do a search here for posts if you are talking about the Signia X hearing aid just released. They have not been all positive. For some reason Signia seems to have brought out a new app for them, that is not as full featured as the one for the Signia Nx or the very similar Adore Li, that you already have (Smart Direct).
My understanding is that the most significant technical advantage of the X is that it has a built in motion detector to help determine what the user is doing and then adjust the aid to that situation. The 7Nx and Adore Li do the same, but they use the motion detector in the smart phone (iPhone) providing one is connected. The X series should be more reliable in detecting motion, but I am not sure what value that would have. I have the KS8 which is essentially the same as the Adore Li but is not rechargeable. I have to say that I do not notice much if any difference in how it reacts when I have the phone connected, and when it is not. Lets just say it is not an overwhelming feature. If you have an iPhone you would have the opportunity to observe the same. How this feature works is described in the Signia 3D Classifier document.
I recall that there also may have been some attempts to reduce the overall size to make a rechargeable version that is smaller.
My thoughts are that it would not be a significant upgrade over your existing Adore Li, which I believe is a very good aid. But no personal experience…
As it so happens
I just turned in my Widex Evokes to try the new Signia Pure Xperience and I really like them a lot.
The Widex are so easy to get used to and music is awesome but they do not claim the title of clear speech which goes to these new Signia's.
Unlike any other the Signia's sparkle in the high frequency range and Newbie's might find them a tad harsh (as did I when I first tried them in an earlier version 6 months ago).
At a noisy dinner party last night I was able to enjoy clear conversations from all directions, and the voices were far more audible than any other HA I have tried.
The apps' "Directional Hearing" focus is useful and actually works, but the rest of the app is pretty basic.
re: Sierra's observation about the Signia motion detector; I cannot perceive what it does???
In any case the priority is their unique sound quality which works well for me.
I also like the charger for the Li-Ion version because it works through induction so I don't have to fiddle trying to seat the HA's in the charger when I'm tired just before bedtime.
They are definitely worth a try if conversation is an important factor, and
Good Luck
PS : Geoffrey Cooling's has an excellent review of them here:

I suspect the effect is quite subtle. It is described in the 3D classifier document that I posted above. Essentially it uses it to identify 24 different listening situations and claims to adjust the features to suit each. Sales hype? Possibly…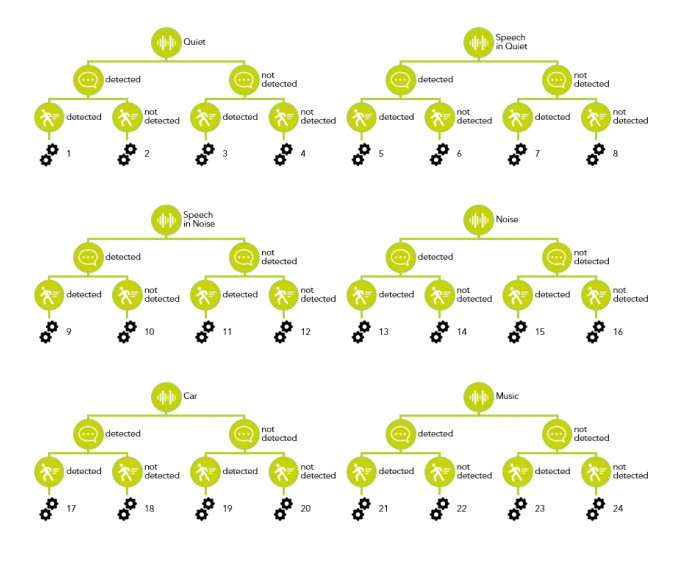 The Signia approach is different than the Phonak auto adjusting methodology. Signia uses one automatic program and keeps fine tuning it to the actual situation. Phonak seems to have a limited number of programs like 4? or so, and then using audio only (not own voice, or motion) to switch between these limited number of programs. I believe some have said they can hear it switching programs. I have never heard the KS8 do that. The changes seem quite subtle.
On sound quality, on a technical basis the Signia (Rexton) seems to have an advantage. Signia claims to use 24 bit A/D conversion. Widex?? Input dynamic range is believe is similar at about 113 dB. And I believe the Signia has a slight advantage in bandwidth at 12 kHz vs 10 kHz for the Widex. But to many of us here that is well beyond hearing with or without aids… Keep in mind that the Rexton Adore has these features too, and are not new in the X model.
I am in my 7th week with them. I had Primax 7 before these. They are good but personally I have better word discrimination with the OPN S1 that I had a 3 month trial with. I have always liked the ability to focus microphones for different situations but if I still can't understand properly it is a moot point.
anybody have any info about signa experience thanks