Edit: Don't know if it matters, but I moved this post from the general Hearing Aid category to DIY
Is compression a feature that can be turned off and on? If so, I'm thinking maybe it's called by different names by different companies. I'm looking for it for my Philips 9030 and have attached a screenshot of the features screen. Are any of these compression?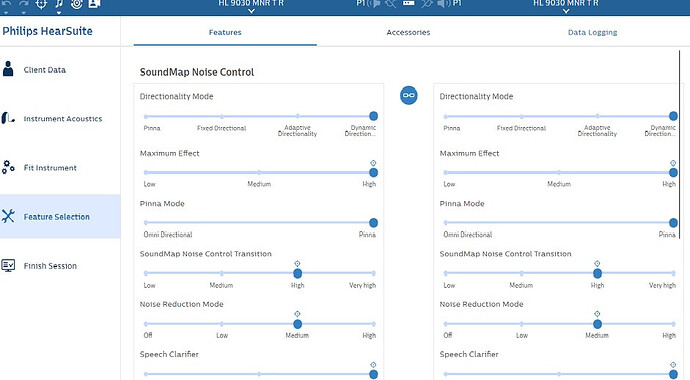 I've ordered an Intro to Audiology book that was suggested on this forum and depending on how my fitting tweaking session goes later this week may order the Noahlink Wireless and begin DIYing.
Both @Um_Bongo and @Neville recommended that one way to deal with the issues I'm having is to build up from a basic program that includes little or no automatic processing, just volume control. But, I don't see how I can do that without doing it myself. Seems like it would take many, many small tweaks and tries. I have a Music program. I don't know what underlying processing is going on but the changeable features (those in the screenshot and frequency lowering) are all off or set to min (I think. It's whatever the default is). Presumably I could DIY test and fit with this program. For now though, I'd like to know what the current compression settings are.
If this is better suited to the DIY part of the forum, I'll re-post.