Somehow, after putting new flexible tubes on my Phonak Bolero B90 SP's, I get distortion on most keys of the piano, so I am looking further into programming the aids for live music.
I am trying to recreate what Marshall Chasin (Hearing aids for Musicians) calls a single channel amplifier for Music:
"One Channel is Best for Music In sharp contrast to hearing speech (especially in noise), one channel— or, equivalently, many channels with the same compression ratios and kneepoints—appears to be the appropriate choice for hearing music."
I already made sure that all channels had the same compression ratio. However, it still a bit obscure, how I would have to go about getting the same kneepoints. On approach seems to be to give all the bands the same amplification. I am still a bit fuzzy whether this should be the Real Ear GAIN/Insertion gain/cc.
However, before I got to experimenting I found that I was limited by the amount that I could decrease the 340Hz gain: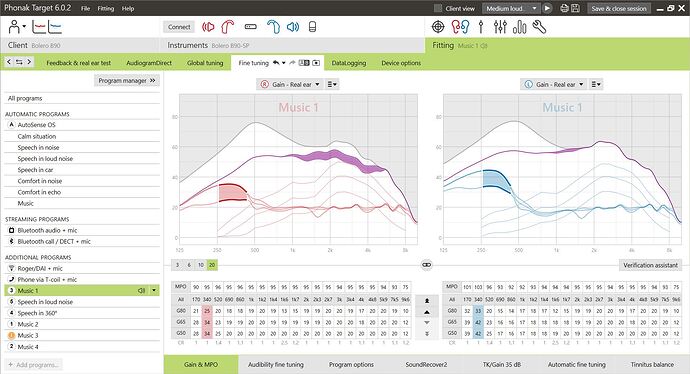 Can't seem to do anything to decrease it further. Did anyone stumble on this hurdle before and could (s)he remove it? Why only the 340Hz band? Odd.
This isn't the only restriction I found, though. Often it seems like I am plucking at a tapestry or field, instead of giving different values to cells: Depending on the values in neighboring cells, I can change the value within a small range. After that the values in the neighboring cells start to shift, too. This is something I can work around, though.