Hi all,
I have very severe to profound loss in left ear. Right ear is profound. Without my aid, I can only hear loud low frequency sounds such as door slamming, loud hum of refrigerators at the supermarkets or the Royal Air Force military planes shooting past in the skies! I have no high frequencies nerves at all (I believe). My current aid since the past 4 years has been Starkey's Z Series i30 CIC with am 70db receiver.
I get on very well in life due to excellent lip reading skills (was born hard of hearing) and one - to one speech I hardly misunderstand. In groups of people I do struggle, I mean I am hearing everything but speech understanding which I cannot do.
I have been self programming past few days and I got the bug! I am enjoying it and it has become a sort of an hobby but the wife is not happy! My aid sounds much more clearer and better than what the AuD had it set. The only problem I have is I find background environmental sounds too loud such as extractor fans, refrigerators at my work place (I work in a large supermarket), AC systems at certain places, traffic going past and background noise in the car such as air whishing around the faster you drive; had these issues even before self programming. I have no issues understanding soft speech now; my wife has such an soft speech and the settings before my own self programming were not right. I fixed it and now can hear her well. Can anyone offer any tips or pointers on how to resolve this the above issues?
The low frequencies are very compressed. But sounds very natural and comfortable. I cannot stand loud sounds or booming speech…I find speech clarity is enhanced if you keep the loud sounds in the 200khz and 500khz low.
Settings with Aud: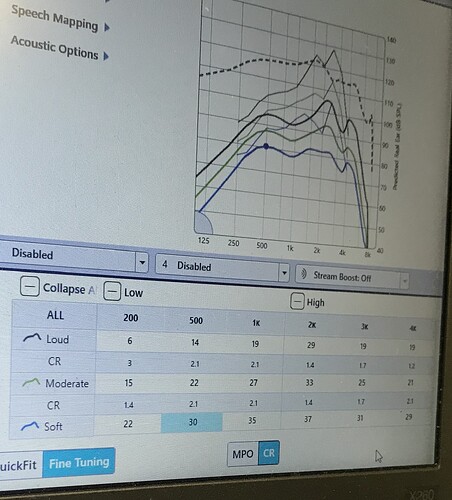 After self programming: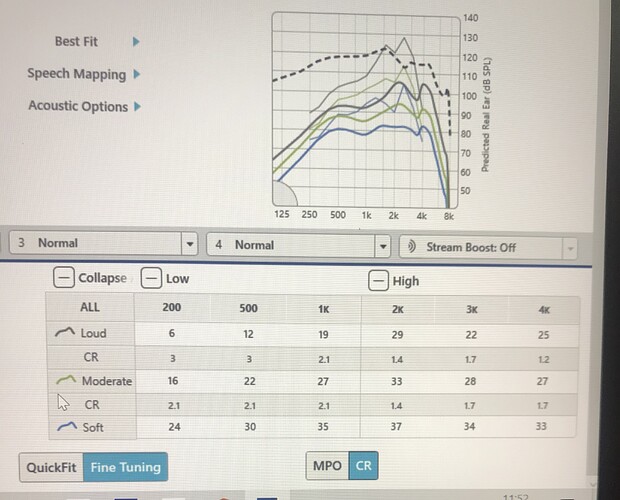 I increased overall gain in the 3k and 4k for better speech understanding and I have found it to be helping. In the lower frequencies I lowered 500k gain from 14 to 12 which also increased compression from 2.1 to 3. Much more mellow sound and increase of speech clarity. In the 200k slightly brought down the moderate from 16 to 15 and increased the soft gain from 22 to 24 which also changed compression from 1.4 to 2.1
I find my hearing via the aid is much better now than what the Aud had set on. And I had this aid for nearly 4 years.
Yahzib