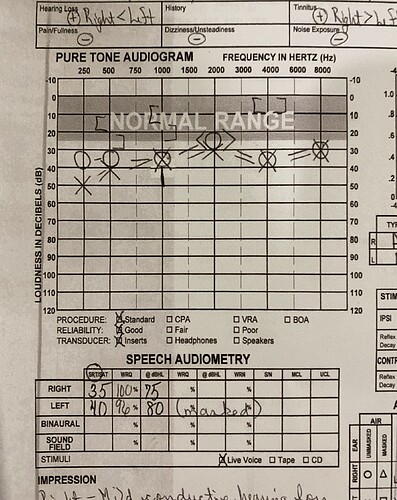 After dealing with a mild to moderate hearing loss my entire life, I have decided to take the plunge and try wearing hearing aids. The main motivation for this is that I am having a hard time with hearing speech, especially my 16 year old son. Often I can tell that people are talking but I feel like it is hard for me to make out what they are saying. I feel like I get only some of the words correct. I can usually figure it out but by the end of the day, my brain is exhausted. It has probably gotten worse because I just returned to teaching this year after being a stay at home mom for 15 years. I have a hard time hearing the students and my assistant, especially if there is any background noise. I also have a hard time with TV, in restaurants and at mass. Basically, I feel like I can hear things but not speech clearly. It's very frustrating and getting worse.
That being said, I was able to try the Widex Moment, Signia Pure Charge and Go and the Resound Quattro Linx in my audiologist's office. She said it was personal choice which one I decide to go with. She also told me to "go with your budget". There is a significant price difference between the basic and Premium levels of these models. Obviously, I want the best technology for my situation. I am willing to spend more if I have to. I wanted advice from more experienced users about what level of technology I should invest in. My husband said basic is good enough but I want to be sure since I'm pretty sure he is thinking only of the cost.
My audiologist is part of the hospital system and the pricing for all three models is the same. So it's not so much about the model but the level of technology that will determine the price. Thanks for your help.